HTC Wildfire S Pros And Cons Review
The HTC Wildfire S has critical pros and cons that you need to know. The following analysis of its specs underscores which good points there are to love about it and which not-so-good points you should keep a closer eye on.

Cons: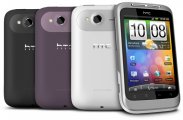 According to our calculations, the 3.2-inch touch screen only offers a 4.73 square inches surface for your fingers, which is kind of cramped.

Latest 50 Smartphones 2013 In Pictures
Smaller touch screen:
We hope you don't have big hands, since the Wildfire S's touch screen has a smaller display surface to press on than many other smartphones. According to our calculations, it has a 4.73 square inch-display while
SAR rating info not found:
We were unable to find SAR (radiation level) information for this phone.
Slower smartphone:
Not too long ago, this smartphone's processing specs would have been just fine, but by today's standards, a 600MHz Qualcomm MSM7227 processor with a RAM of only 512MB looks a little pale, compared to recent smartphones with their dual-core gigahertz processor and large RAM.
Ad
Now, the Pros:
Nice battery life:
HTC claims the HTC Wildfire S offers 430 minutes of talk time. If that figure is accurate, it may be a great plus.

At only 105 grams, the HTC Wildfire S weighs less than the latest iPhone.

Latest HTC Phones In Pictures
Lighter than the latest iPhone:
It may not have features as shiny as the latest iPhone, but at only 105 grams, it is lighter than the iPhone 4S (which weighs in at 140 grams).
Special characteristics:
It offers these special features: Accelerometer, Digital Compass, G-Sensor, Proximity Sensor
** This phone is also known as: HTC Wildfire
*** These pros and cons are spotted automatically based on our analysis formula and the specifications we have in our database for this phone. If you spot a mistake, please let us know.
You Should Also Check These Out:

New 2013 Phones In Pictures: