iPhone 8 Review of Pros And Cons
- Analysis by Christelle Nina
As opposed to the iPhone X, the iPhone 8 sits closer (or maybe even too close, for some people) to the iPhone 7. Boasting roughly the same pros and cons as the latter (with a few exceptions, of course), it retains the same confidence as its siblings -- that is, the confidence to battle it out on the smartphone scene, in spite of having relatively-weaker specs (on paper) compared to other flagships.
Starting off with one of the more major upgrades, this smartphone boasts of a new mostly-glass exterior

. It still retains some of the aluminum found on its predecessor, but this material now keeps only to the side bands. Apple takes advantage of this new design by enabling wireless charging of the phone just by placing it on top of the upcoming (as of September 2017) AirPower mat

, which can wirelessly charge other Apple products like the AirPods and the iWatch -- simultaneously. If this is too much of a jump, the iPhone 8 is still compatible with standard Qi wireless chargers

.
Another one of the more pronounced upgrades can be found on this device's performance artillery. With an A11 Bionic chip

replacing the A10, the iPhone 8 is claimed to have "the most powerful and smartest chip ever on a smartphone." While experience tells us that iPhone products really do have their game in the speed and performance department, the specs show the iPhone 8 having six cores

and a 2GB RAM allocation

, both of which appear inferior to what can be found on other 2017 flagships.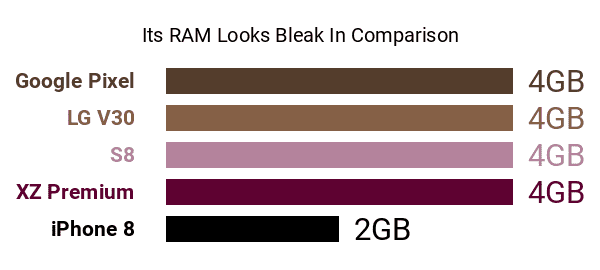 Related: Best Fastest Android phones
The iPhone 7's 12-megapixel rear camera and 4.7-inch 1334-pixel by 750-pixel display all remain unchanged in the iPhone 8

. However, these features didn't miss out on some other improvements. For one, the rear camera has been outfitted with a faster and larger sensor

, which should help it take in more light. In addition, the display boasts a wider color gamut and improved tone accuracy

. However, the 7-megapixel FaceTime camera is pretty much the same as the one found on last year's offering

. This device also can't escape the fact that its figures, both in the imaging and display departments, look somewhat sub-par to the competitions'.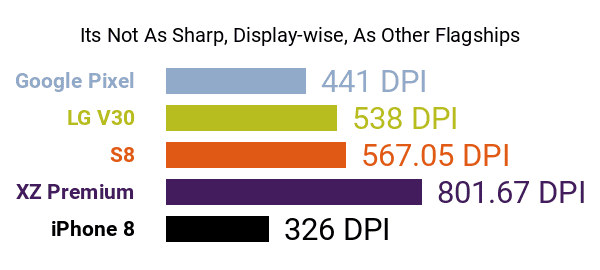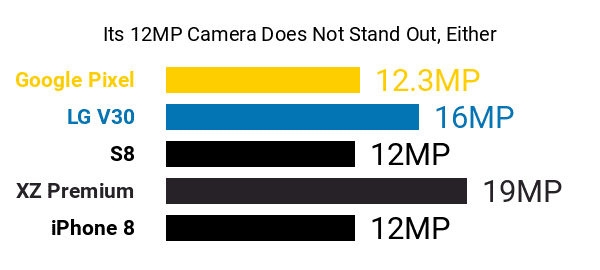 The lack of any major updates has at least earned the iPhone 8 the capacity to retain a comparably-thin 7.3mm depth

. However, the switch to glass may have taken a slight toll on its weight, since at 148 grams

, it's considerably-heavier than a number of other premium-class devices of a similar size.
The iPhone 8 seems to be a smartphone made for those who are either not ready to jump ship to the all-screen bandwagon, or to those who cannot justify the iPhone X's price range (But let's face it, Apple fans don't really seem to have that much trouble justifying the company's asking prices, as shown on the iOS smartphone's ever-growing popularity). Does it, with its pros and cons, appear to be the absolute best of the top-shelf bunch? Not completely so. But as Apple has shown time and again, its slew of features -- meek as some of them may seem -- would probably have little trouble convincing people to cash in.
** This phone is also known as: Apple iPhone 8




You Should Also Be Interested In These:
* Prices shown are only indicative. They were recently fetched by our system and may have changed meanwhile.