Top 10 Best AT&T Cell Phones 2014


As of September 2014, 10 phones are featured in our latest best AT&T phones lineup, starting with Apple's iPhone 6, a smartphone, and the Amazon Fire Phone smartphone. Other best AT&T models include the iPhone 5s and the Lumia 635 by Nokia.
AT&T can be described as the largest GSM carrier in the United States.
* To compare some of these phones, just select the compare box under the picture and click compare at the bottom of the list.

#1.
The Apple iPhone 6

Description:
Shortly after several Android-run flagships were unveiled during the IFA 2014, Apple reveals the follow-up to the 4-inch iPhone 5...
What We Like:
The 64-bit support might place it among the fastest smartphone available
The Apple Pay mobile payment software will likely interest tech-savvy users
The iPhone 6 joins the short list of models that sport a seamless screen-to-body design
More:
Check Price »
Full specs »
Pros and cons review »
Ad - More top AT&T Cell phones below
#2.
The Amazon Fire Phone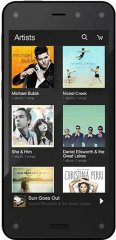 Description:
Online retailer of different consumer items, Amazon, has finally entered the smartphone market with their first flagship device - the Amazon Fire Phone...
What We Like:
The 24/7 available customer support
The Dynamic Perspective, which provides a whole new interface compared to traditional ones
The Firefly technology that allows you to know more about an item straight from the phone
More:
$ Check Price »
Full specifications »
Pros and cons review »
Don't Choose The Wrong AT&T Phone!
Let Us Find Your Perfect Phone!
Our quick Celliminator cell phone finder tells you your best phone in less than a minute. Try it now or start here with the first question:
Question #1: Should it be a smartphone?

A)

Smartphone or not... it doesn't matter.


B)

Smartphones only.


C)

Regular, "dumb" phone only. No smartphones please!

You Should Also Check These Out: