Best BlackBerry Cell Phones As Of December 2014
* Also check out for all manufacturers.



Phonerated's list of the best BlackBerry Cell phones (as of December 2014) opens with the BlackBerry's Passport, a smartphone. BlackBerry is best-known for its full keyboard texting phones (and more recently, the BlackBerry 10 series). Also view all their new phones here.

The List:
* To compare the following phones, just select the compare box under the picture and click compare at the bottom of the list.

#1.
The BlackBerry Passport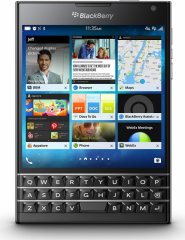 Gallery: 7 more pictures
Average Star Rating:


All the pros & cons

Description
BlackBerry attempts to set a new trend in the smartphone market with the Passport´s square display (1440p, 1:1 aspect ratio) capable of showing 60 characters per line. The Passport also comes with a high-end feature set, including a 2.2GHz quad-core processor, a 13-megapixel camera and 3GB worth of RAM. Its imaging power might also turn out satisfactory, with 13- and 2-megapixel cameras. Under its lid is a 3450mAh battery, one of the highest capacities we have observed on 2014 smartphones. Just like many BlackBerry phones, the Passport is equipped with a three-row full QWERTY keyboard.




Ad - More top BlackBerry Cell phones below
#2.
The BlackBerry Z3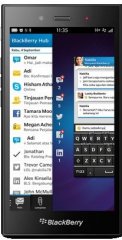 Gallery: 1 more picture
Average Star Rating:


All the pros & cons

Description
One of BlackBerry´s attempts on full-touchscreen models, the Z3 offers several signature features alongside the BB Screen Reader and Magnify apps for users with poor eyesight. It runs the latest BlackBerry 10 OS, but is compatible with some Android apps, giving a touch of leisure to what is otherwise a productivity-oriented device. It also features the Balance technology that offers dedicated profiles for both work and leisure, probably so one does not get in the way of the other.
Don't Choose The Wrong BlackBerry Phone!
Let Us Find Your Perfect Phone!
Our quick Celliminator cell phone finder tells you your best phone in less than a minute. Try it now or start here with the first question:
Question #1: Should it be a smartphone or not?

A)

Smartphones only.


B)

Regular, "dumb" phone only. No smartphones please!

#3.
The BlackBerry Q5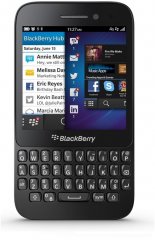 Gallery: 3 more pictures
Average Star Rating:


Full pros & cons

Description
With its 720 x 720 display at a dpi of 329, the Q5´s display makes it to the iPhone class. A dual-core 2.4 Ghz Snapdragon S4 processor and an impressive quoted talk time of 750 minutes complete the picture. Speaking of pictures, this apparently powerful texting phone only sports a 5-megapixel main camera (with 4-element lens), probably an indication of its corporate target clientele where camera phones are not always welcome.
You Should Also Be Interested In These: