Top 10 Best Canadian Touch phones 2015


Touch phones became all the rage after the first Apple iPhone hit the market in June, 2007. To choose the best touch-screen phones, we select phones with a large touch screen and keep only the best touch phones, according to their average review score.

#1.
The Apple iPhone 6


Gallery: 6 more pictures
Average Star Rating:


Full pros and cons

Description
Shortly after several Android-run flagships were unveiled during the IFA 2014, Apple reveals the follow-up to the 4-inch iPhone 5. The iPhone 6 sports a larger 4.7-inch Retina HD display, lining up with most premium Androids from other brands. Along with its 5.5-inch big brother, it introduces Apple Play - a digital payment system based on NFC (Near Field Communication) technology.
Looking under the hood, its A8 processing chip and iOS 8 makes it one of the first 64-bit devices from Apple. They also re-engineered the classic iPhone design with its outward flowing iron-strengthened glass, blending seamlessly with the 6.9mm aluminum casing. Camera detail is also a classic ring for iPhone fans, as the iPhone 6´s 8-megapixel camera comes with perks like Focus Pixels and Cinematic Video Stabilization. A fingerprint-dependent TouchID also adds a nice touch of security to it.
Touch-phone-related features

Full specs »




Ad - More top Canadian Touch phones below
#2.
The Sony Xperia Z3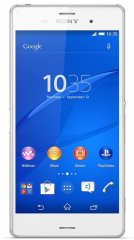 Gallery: 6 more pictures
Average Star Rating:


All the pros & cons

Description
The Xperia Z3 is the third installment in Sony´s Z-series, crafted with an IP65/68-certified (waterproof and dust-tight) 7.3-inch casing. Sticking to its multimedia-oriented roots, the Z3 comes with PS4 support, enabling you to use a standard PS4 controller when playing games -- with PlayStation certification to boot. It sports a 20.7-megapixel rear camera equipped with Sony´s Exmor image sensor, enabled for 4K video recording. The Z3´s performance also skirts the premiums, running on a 2.5GHz quad-core engine, Adreno 330 graphics, a 3GB RAM and a pretty hefty 3100mAh battery power.
Touch-phone-specific specifications

Full specs »
Don't Choose The Wrong Canadian Phone!
Let Us Find Your Perfect Phone!
Our quick Celliminator cell phone finder tells you your best phone in less than a minute. Try it now or start here with the first question:
Question #1: Should it be a smartphone or not?

A)

Smartphones only.


B)

Regular, "dumb" phone only. No smartphones please!

You Should Also Be Interested In These: