Top 2 Best Motorola Flip Phones 2014
* Also exists for all brands.



Flip phones, also called clamshell phones, are convenient for users who don't want to have to lock their keypad to prevent unwanted keypresses. They are also usually not as tall as candy bar phones and fit easily in your pockets. Rumor has it that clamshell phones were inspired by the Star Trek original series' Communicator.
Methodology
To select the best Motorola Flip phones, we make a list of flip phones that weigh less than four ounces and include an external display. Then, we keep only the best flip phones, according to their average review score.

#1.
The Motorola Gleam Plus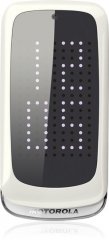 Description :
Like the original Gleam, the Gleam+ focuses on aesthetics with the familiar Motorola RAZR-like design. It features a slim stylish form factor (actually 0.4mm thinner than the first Gleam) and an external LED matrix display for notifications and alerts.
Form-factor-specific features:
Currently offered by :
Ad - More top Motorola Flip phones below
#2.
The Motorola Motosmart Flip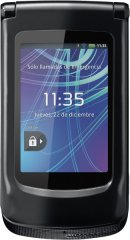 Description :
What is unique about the Motosmart Flip is its design — it has a flip form factor! Its cover is transparent and touch-sensitive and you do need to open it to answer a call or read a text message. Most of its features are low-end, such as an 800MHz processor and a 5-megapixel camera.
Form-factor-related specs:
You Should Also Be Interested In These: