Top 10 Best Nokia Cell Phones 2015
* Also exists for all brands.



These 10 phones top our current best Nokia phones list. Our #1 choice, the Nokia Lumia 735, is a 1.2GHz Windows smartphone, while our second choice, the 215 is a social phone. The list also includes the Lumia 1520 and their Nokia Lumia 635, an 8GB Windows Phone 8.1 with Lumia Cyan smartphone.
Nokia is one of the top cell phone brand, specializing in Windows smartphones.
* To compare some of these phones, just select the compare box under the picture and click compare at the bottom of the list.

#1.
The Nokia Lumia 735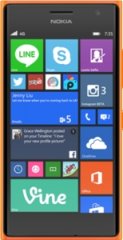 Gallery: 4 more pictures
Average Star Rating:


All the pros & cons

Description
Following Nokia´s IFA reveals is this mid-range Lumia that claims to be a smartphone made for selfies. The Lumia 735 sports a 5-megapixel front-facing camera, clearly beating out most others on comparable models. A 6.7-megapixel camera also sits at the back. It supports wireless charging, with its own charging shell to hold it upright while powering up. Its internal memory stands at 8GB, while supporting up to 128GB of memory expansion. This Widows-run smartphone is powered by a 1.2GHz quad-core processor and a 2220mAh battery.





#2.
The Nokia 215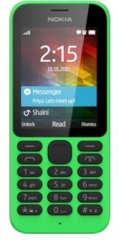 Gallery: 5 more pictures
Average Star Rating:


Full pros & cons

Description
This basic candybar from Nokia sports a 2.4-inch LCD Transmissive 262K color display atop its rubber-based alphanumeric keypad -- a typical facade sported by many similar models from the Finnish brand. Its basic specs include an array of preloaded social networking apps (Facebook, Twitter, etc.), the Opera Mini web browser, a built-in flashlight, and a 0.3-megapixel camera. Its polycarbonate shell also houses a microSD card slot and 8MB worth of RAM, with a 1100mAh battery in charge of the power supply.
Don't Choose The Wrong Nokia Phone!
Let Us Find Your Perfect Phone!
Our quick Celliminator cell phone finder tells you your best phone in less than a minute. Try it now or start here with the first question:
Question #1: Should it be a smartphone or not?

A)

Smartphones only.


B)

Regular, "dumb" phone only. No smartphones please!

You Should Also Check These Out: