Top 10 Best Low-sar Phones 2015


This top rated low-SAR phone list doesn't just list low-SAR phones, it reports on the best phones in that category.
Methodology
We start with a list of the top rated cell phones and we keep only the cell phones which fit one of these two situation:
A low ear SAR rating of no more than 1.10 W/kg.
An ear SAR rating of less than 1.20 and a body SAR rating of less than one (1).
The best phones that meet these critieria are then presented from the top rated to the lowest rated cell phone.
#1.
The Samsung Galaxy Grand Prime

Gallery: 4 more pictures
Average Star Rating:


All the pros and cons

Description
The Samsung Galaxy Grand Prime is a dual-SIM Android that runs on mid-range hardware (1.2GHz, quad-core with 1GB RAM), but sports pretty decent cameras. It packs an 8-megapixel rear camera and a 5-megapixel one sitting up front with a wide angle of 85 degrees -- most other comparable models sport 70-degree-angle snappers. Behind its 5-inch 1080p display is an 8GB internal memory, with support for up to 64GB of expansion via microSD. The Prime´s battery power is rated at 2600mAh, leveling with most mid-level benchmarks. Unlike some of its series-mates, though, the Grand Prime does not offer LTE.
SAR-specific specifications

Full specs »





#2.
The Sonim XP7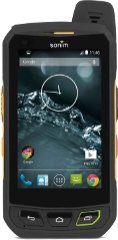 Gallery: 7 more pictures
Average Star Rating:


Full pros and cons

Description
Sonim follows up their ultra rugged XP6 with the 4-inch XP7, retaining several of the former's key selling points. It boasts a whopping 4800mAh battery capacity inside an IP68/69-certified shell, and supports glove usability as well. Also, just like the XP6, it comes with a relatively long 3-year warranty, covering the device for both malfunctions and accidental damages. Its native memory caps off at 16GB, with a 1GB RAM capacity alongside it. The SP7's other specs, which include a 1.2GHz quad-core processor and an 8-megapixel rear camera, land it a mid-level shelf.
SAR-related features

View full specs »
Don't Choose The Wrong Phone!
Let Us Find Your Perfect Phone!
Our quick Celliminator cell phone finder tells you your best phone in less than a minute. Try it now or start here with the first question:
Question #1: Should it be a smartphone or not?

A)

Smartphones only.


B)

Regular, "dumb" phone only. No smartphones please!

You Should Also Be Interested In These: