Top 1 Best Straight Talk Smartphone Phones 2015


After inception of the first iPhone in June, 2007, smartphones became the norm. Smart phones let you surf the web comfortably on a large screen while waiting at a bus station, they make email on the go almost as easy as on a computer, smartphones make your mobile life easier. But how to choose smartphone phones? Easy. Our top smartphones 2015 by Straight Talk list makes it much easier by spotting the best Straight Talk smartphones in other reviews and listing them here, in best rating order.
* To compare some of these phones, just select the compare box under the picture and click compare at the bottom of the list.

#1. Samsung Galaxy Ace Style (Samsung SM-G310)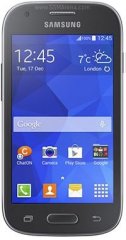 Description:
A 2014 addition to Samsung´s growing family of affordable smartphones with the typical combination of a 5-megapixel camera (with VGA front cam), 1.2GHz dual-core processor and 4GB/1GB memory/RAM...
Key features:
Display size: 4-inch
Camera: 5-megapixel
More:
You Should Also Be Interested In These: