Top Verizon Flip Phones 2015


Although text-only phones have been rendered nearly obsolete by smartphones, Verizon still keeps a couple of top flip phones in their list of offerings. This is because some people prefer the convenience of a simple and auto-locking phone for basic communication purposes.
If flip-type phones are your style, then our list of Verizon's best models will probably help you choose. It isn't extensive, but it gives a pretty clear picture of what to expect from Verizon's flip phone selection for this year so far 2015. It's also based on our own scientific ranking system and not on any mobile phone hype.
#1. Samsung Gusto 3 ()

Description:
The Gusto 3 succeeds the previous Gusto models from Samsung, retaining the convenience of a large and simple UI and a one-touch speakerphone button...
Key features:
Display size: 2.0-inch
Processor: Qualcomm QSC6055 at 192MHz
Camera: 1.3-megapixel
Other key features: Content Filtering
More:




Ad - More top Verizon Flip phones below
#2. LG Revere 3 ()

Description:
LG's flipper series continues with the Revere 3, this time coming with a menu readout function that plays audio prompts as you select items...
Key features:
Display size: 2.2-inch
Camera: 1.3-megapixel
More:
Don't Choose The Wrong Verizon Phone!
Let Us Find Your Perfect Phone!
Our quick Celliminator cell phone finder tells you your best phone in less than a minute. Try it now or start here with the first question:
Question #1: Should it be a smartphone or not?

A)

Smartphones only.


B)

Regular, "dumb" phone only. No smartphones please!

#3. LG Exalt ()
#4. LG Revere ()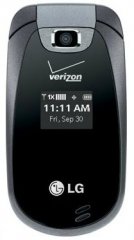 Description:
An unassuming flip phone outfitted with simple features: A 2-inch main display with a monochrome external screen and a 1.3-megapixel camera.
Key features:
More:
#5. Samsung Convoy 3 ()
You Should Also Check These Out:





Full Menu