Top 10 Best Smartphones from Verizon 2015/2014


The top 10 best smartphones so far this year from Verizon come from various manufacturers and feature most kinds of smartphone operating systems including iOS, Android and Windows Mobile. In fact, the majority of the phones on their list are actually smartphones, ranging from the earlier, basic models to the newer ones with higher price tags.
Verizon smartphones generally include several DROID models from Motrola, but we have established this current list of the best Verizon smartphones by choosing units from all brands and compiling online review scores for all smartphones offered by them as of January 2015.

#1. The Apple iPhone 6

Overview:
The iPhone 6 is an iPhone that looks to compete with recent Android-run flagships, running on the 64-bit A8 processor and the iOS 8, with an integrated NFC-based payment system (Apple Pay) headlining its obviously upscale feature set
Key features:
8-megapixel camera
4.7-inch IPS-LCD LED backlit display
More:




Ad - More top Verizon Smartphone phones below
#2. The Sony Xperia Z3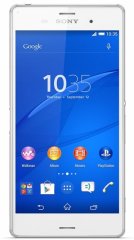 Overview:
The Xperia Z3 is the third generation of Sony´s top-of-the-line Xperia Z-series, packing a 5.2-inch TRILUMINOS display, PS4/PlayStation support and 4K video-recording (20.7-megapixel) within a water- and dust-proof 7.3-inch thin casing
Key features:
20.7-megapixel camera
2.5GHz Qualcomm Snapdragon 801 processor
5.2-inch IPS-LCD display
More:
Don't Choose The Wrong Verizon Phone!
Let Us Find Your Perfect Phone!
Our quick Celliminator cell phone finder tells you your best phone in less than a minute. Try it now or start here with the first question:
Question #1: Should it be a smartphone or not?

A)

Smartphones only.


B)

Regular, "dumb" phone only. No smartphones please!

You Should Also Be Interested In These: