Motorola Moto X Pros And Cons Review
Is the Motorola Moto X a good fit for you? Find out what we think are the Moto X's 2 pros and 4 cons in a thorough review that, according to us, beats most expert or user reviews:
First, the Cons:
Is there an HDMI port?:
The Moto X can record high-resolution (1920 x 1080 pixels) videos. Bravo! But we couldn't confirm whether it had an HDMI port or not. HDMI, which lets you connect to an HDTV, is not essential, but would be great on an HD phone.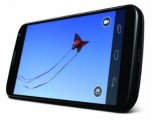 Do you like our unique motorola moto x review system?
No trace of a memory expansion slot:
Does it have any memory expansion slot? The Motorola tech specs do not suggest it does.
Unknown radiation level:
It may be because Motorola didn't publish it or because our phone profilers didn't find it, but we don't have the SAR info (radiation level) for that phone, so we can't tell you how close it is to the legal limit.
Slower smartphone:
A year ago, this smartphone's on-paper performance would have appeared nice, but compared to recent smartphones, this 1.7GHz Software-optimized Qualcomm Snapdragon S4 Pro Krait CPU processor with only 2 GB of RAM seems a little pale, knowing how recent smartphones boast multi-core, 2+Ghz processors with more than 1GB of RAM.
Ad
Pros:
4.7-inch display is larger than usual:
It features a rather large, 4.7-inch display, with a 1280 x 720 resolution.
Strong frames-per-second (fps) video recording:
Video can be recorded at 30 frames per second, which is a high-enough frames per second rate by today's video phone standards.
** This phone is also known as: Motorola X
*** These pros and cons are spotted automatically based on our analysis formula and the specifications we have in our database for this product. If you notice a mistake, please let us know.
You Should Also Check These Out: