#1.
The Sonim XP1520 BOLT SL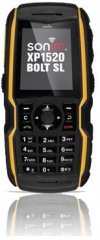 Average Star Rating:


Full pros & cons

Description
Retaining Sonim´s signature ultra-rugged durability, this affordable phone trades off having basic features for extra strength. Its hard non-porous casing, which prevents tiny particles from entering the body pairs up with a Corning Gorilla glass frame that protects the screen from scratches. On top of that, its MIL-810G certification means that it may withstand extensive humidity, transport and thermal shocks that normal phones do not do so well against.
You Should Also Check These Out: