Top 2 Best LG Flip Phones January 2015
* Also exists for all brands.



Flip phones, also called clamshell phones, are convenient for consumers who don't want to have to lock their keypad to prevent unwanted keypresses. They are also usually not as tall as candy bar phones and fit easily in your pockets. Rumor has it that clamshell phones were inspired by the Star Trek original series' Communicator.
Methodology
To select the best LG Flip phones, we make a list of flip phones that weigh less than 4 ounces and include an external display. Then, we keep only the best flip phones, according to their average review score.

#1.
The LG Wine III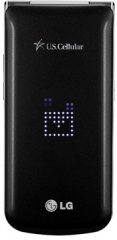 Gallery: 7 more pictures
Average Star Rating:


Full pros and cons

Description
As a classic flip phone, the LG Wine III offers specs that will probably not make you flip out with techie glee. Aside from new features like a dedicated voice command key and the Voice Clarity mode designed to adjust voice depending on the surrounding noise level, it comes with a 2-megapixel camera and a 3-inch 400 x 240 TFT screen. Its 900mAh battery has a talk time of 330 minutes or 5 and a half hours. It also has a native memory of 260MB that is expandable up to 32GB.
Form-factor-specific specifications

Full specs »




Ad - More top LG Flip phones below
#2.
The LG Revere 3


Gallery: 6 more pictures
Average Star Rating:


All the pros & cons

Description
LG´s flipper series continues with the Revere 3, this time coming with a menu readout function that plays audio prompts as you select items. It still sports a 1.3-megapixel camera (with Night Mode) and the classic monochrome readout external display. Opening it up, you will find a 2.2-inch TFT 262K screen. Its memory caps off at 256MB, while RAM is at 128MB - both pretty typical for clamshell models. It slightly reduces the battery power to 950mAh (Revere 2: 1000mAh), but still promises roughly the same usage time with six hours of calling and up to 15 days on standby.
Form-factor-related features

Full specs »
Don't Choose The Wrong LG Phone!
Let Us Find Your Perfect Phone!
Our quick Celliminator cell phone finder tells you your best phone in less than a minute. Try it now or start here with the first question:
Question #1: Should it be a smartphone or not?

A)

Smartphones only.


B)

Regular, "dumb" phone only. No smartphones please!

You Should Also Be Interested In These: