Did you mean UK smartphones? This list shows the best basic phones, but this one lists the best UK smartphones.
Phones shown here are basic models as well as feature phones having obtained the best ratings in the reviews we monitor around the web. Therefore, the best basic phones listed here will not be smartphones and can be either basic bar shape classic phones, regular flip phones, or very basic models that operate like smartphones without a popular smartphone operating system.

#3.
The Nokia 222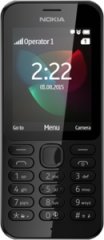 Gallery: 6 more pictures
Average Star Rating:


#4.
The TTfone Star

Average Star Rating:


#5.
The Alcatel 10.35


Gallery: 5 more pictures
Average Star Rating:


You Should Also Be Interested In These:
* Prices shown are only indicative. They were recently fetched by our system and may have changed meanwhile.





Full Menu