Best UK Basic Phones As Of November 2015


Did you mean UK smartphones? This list shows the best basic phones, but this one lists the best UK smartphones.
Phones shown here are basic models as well as feature phones having obtained the best ratings in the reviews we monitor around the web. Therefore, the best basic phones listed here will not be smartphones and can be either basic bar shape classic phones, regular flip phones, or very basic models that operate like smartphones without a popular smartphone operating system.

#1.
The Doro PhoneEasy 612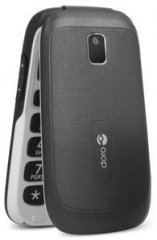 Gallery: 4 more pictures
Average Star Rating:


Description
This version of the classic PhoneEasy setup features a 2-megapixel camera (which, according to Doro, is also easy to use) and an included charging cradle. As usual, other features are moderate, assuming that elderly users prefer ease of use over impressive specifications. Battery life seems to be in the high range, with a quoted talk time of up to 720 minutes and a stand-by time of 533 hours.




Ad - More top UK phones below
#2.
The Nokia 225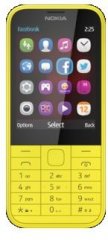 Gallery: 6 more pictures
Average Star Rating:


Description
Only shy on SIM capacity to the dual-SIM version of the same name, the Nokia 225 offers the same Xpress browser and pre-installed social media presumably to get you connected right away. It also has the same physical design, sporting a classic numeric keypad alongside its 2.8-inch screen. A 2-megapixel main camera with audio/video media players also find their usual places in this simple yet pretty ambitious phone.
Don't Choose The Wrong UK Phone!
Let Us Find Your Perfect Phone!
Our quick Celliminator cell phone finder tells you your best phone in less than a minute. Try it now or start here with the first question:
Question #1: Should it be a smartphone or not?

A)

Smartphones only.


B)

Regular, "dumb" phone only. No smartphones please!

#3.
The Nokia 106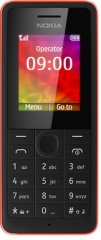 Gallery: 1 more picture
Average Star Rating:


Description
The Nokia 106, with its Style and simplicity tagline, certainly has the simplicity part down pat. The 2.61-ounce basic phone comes with a 1.8-inch 160 x 128 LCD screen with 114ppi pixel density, a 384kB RAM, and an 800mAh battery with 35 days or 840 hours of standby time - but no camera, music player, and memory expansion and internet capabilities. It is housed in white, red, or black cases and it is outfitted in a dust- and splash-proof keymat.
#4.
The Doro PhoneEasy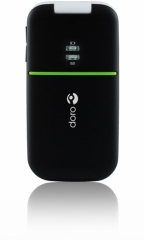 Gallery: 6 more pictures
Average Star Rating:


#5.
The Nokia 108 Dual SIM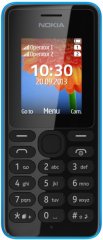 Gallery: 3 more pictures
Average Star Rating:


Description
The Slam service (which shares files over Bluetooth without pairing devices - but it should be with a memory card) heads a list of low-end specs for the Nokia 108 Dual SIM: a 0.3-megapixel camera/camcorder, a 1.8-inch display with 160 x 128-pixel resolution, and a 4MB RAM. The 950mAh battery it ships with has a reported standby time of 600 hours or 25 days and it can also play music for up to 40.8 hours or 2448 minutes.
#6.
The Doro PhoneEasy 611


Gallery: 5 more pictures
Average Star Rating:


Description
The Doro PhoneEasy 611 is a simple flipper that suits elder users and those who don�t have very good eyesight or hearing. It packs optional display modes for simpler and larger fonts as well as hearing aid compatibility and backlit concave keys. It also has a 2-megapixel camera and a microSD card slot for the occasional pictures and videos. Bluetooth connectivity finds its usual place, along with an FM transmitter and free headphones for good measure.
#7.
The Vodafone 555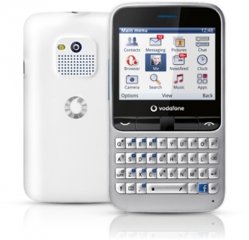 Gallery: 2 more pictures
Average Star Rating:


Description
An HTC Status look-alike, the Vodafone 555 also features a dedicated Facebook button and a QWERTY keyboard. Compared with the Status, an actual smartphone, however, this feature phone only has a 208MHz processor and a 3-megapixel camera.
Currently offered by :
You Should Also Be Interested In These:





Full Menu