Top 10 Best American Low-sar Phones 2014


This top rated low-SAR American phone list doesn't just list low-SAR phones, it reports on the best phones in that category.
Methodology
We start with a list of the top rated American cell phones and we keep only the cell phones which fit one of these two situation:
A low ear SAR rating of no more than 1.10 W/kg.
An ear SAR rating of less than 1.20 and a body SAR rating of less than one (1).
The best American phones that meet these critieria are then presented from the top rated to the lowest rated cell phone.
#1.
The Samsung Gusto 3
Description :
The Gusto 3 succeeds the previous Gusto models from Samsung, retaining the convenience of a large and simple UI and a one-touch speakerphone button. The new version runs a Qualcomm QSC6055 192Mhz processor and a 1000mAh battery deemed able to yield 771 hours of stand-by time (roughly a month) Its flip lid sports a 1-inch external display (showing the time and notifications) and a 1.3-megapixel camera for snapping quick pictures on the go. The M3/T3 hearing aid ratings and its expanded array of fonts also add to the convenience of Samsung"s third attempt in the Gusto series.
SAR-specific specifications:




Ad - More top American Low-SAR phones below
#2.
The Samsung Galaxy Alpha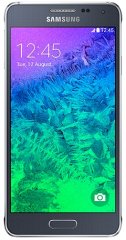 Description :
Samsung joins in on the octa-core sensation with the Galaxy Alpha"s two quad-core CPUs: Cortex-A15 (1.8GHz) and Cortex-A7 (1.3GHz). It also seems to pack top-notch imaging with its 12-megapixel camera"s 4K max video recording resolution. It lacks a microSD card slot, but does cap off at 32GB with 2GB RAM to boot. The Alpha also offers the fastest data rate available as of 2014, with up to 300Mbps on LTE-Cat6. All of its features, including an Ultra Power-Saving Mode (1860mAh battery) are packed within a metal frame, scrapping the plastic shell from previous Galaxy models.
SAR-related features:
Don't Choose The Wrong American Phone!
Let Us Find Your Perfect Phone!
Our quick Celliminator cell phone finder tells you your best phone in less than a minute. Try it now or start here with the first question:
Question #1: Should it be a smartphone or not?

A)

Smartphones only.


B)

Regular, "dumb" phone only. No smartphones please!

You Should Also Be Interested In These: