Top 10 Best American Low-sar Phones 2015


This top rated low-SAR American phone list doesn't just list low-SAR phones, it reports on the best phones in that category.
Methodology
We start with a list of the top rated American cell phones and we keep only the cell phones which fit one of these two situation:
A low ear SAR rating of no more than 1.10 W/kg.
An ear SAR rating of less than 1.20 and a body SAR rating of less than one (1).
The best American phones that meet these critieria are then presented from the top rated to the lowest rated cell phone.
#1.
The Samsung Gusto 3


Gallery: 5 more pictures
Average Star Rating:


Full pros & cons

Description
The Gusto 3 succeeds the previous Gusto models from Samsung, retaining the convenience of a large and simple UI and a one-touch speakerphone button. The new version runs a Qualcomm QSC6055 192Mhz processor and a 1000mAh battery deemed able to yield 771 hours of stand-by time (roughly a month) Its flip lid sports a 1-inch external display (showing the time and notifications) and a 1.3-megapixel camera for snapping quick pictures on the go. The M3/T3 hearing aid ratings and its expanded array of fonts also add to the convenience of Samsung´s third attempt in the Gusto series.
SAR-specific specifications

Full specs »





Ad - More top American Low-SAR phones below
#2.
The Samsung ATIV SE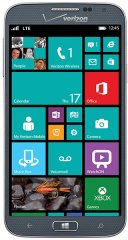 Gallery: 5 more pictures
Average Star Rating:


Full pros & cons

Description
The sequel to the Samsung ATIV S, the ATIV SE features upgrades from its predecessor such as a quad-core 2.3Ghz processor (from a dual-core 1.5Ghz) using 2GB of RAM. It adds a 5-inch 1920 x 1080 pixel Full HD main display (the ATIV S had a 4.8-inch 720p) along with its 13-megapixel rear-facing camera that could record videos in 1080p and a 2-megapixel front camera which can be used for dual recording (add yourself in the picture).
It also offers LTE support, 16GB of on board memory and a 2,600 mAh battery that can reportedly yield a talk time of up to 23 hours.
SAR-related specs

Full specs »
Don't Choose The Wrong American Phone!
Let Us Find Your Perfect Phone!
Our quick Celliminator cell phone finder tells you your best phone in less than a minute. Try it now or start here with the first question:
Question #1: Should it be a smartphone or not?

A)

Smartphones only.


B)

Regular, "dumb" phone only. No smartphones please!

You Should Also Check These Out: