Top 10 Best American Smartphone Phones 2015


After inception of the first iPhone in June, 2007, smartphones became the norm. Smart phones let you surf the web comfortably on a large screen while waiting at a bus station, they make email on the go almost as easy as on a computer, smartphones make your mobile life easier. But how to choose smartphone phones? Easy. Our top smartphones 2015 in the U.S.A. list makes it much easier by spotting the best American smartphones in other reviews and listing them here, in best rating order.
* To compare some of these phones, just select the compare box under the picture and click compare at the bottom of the list.

#1.
The Apple iPhone 6


Gallery: 6 more pictures
Average Star Rating:


Full pros & cons

Description
Shortly after several Android-run flagships were unveiled during the IFA 2014, Apple reveals the follow-up to the 4-inch iPhone 5. The iPhone 6 sports a larger 4.7-inch Retina HD display, lining up with most premium Androids from other brands. Along with its 5.5-inch big brother, it introduces Apple Play - a digital payment system based on NFC (Near Field Communication) technology.
Looking under the hood, its A8 processing chip and iOS 8 makes it one of the first 64-bit devices from Apple. They also re-engineered the classic iPhone design with its outward flowing iron-strengthened glass, blending seamlessly with the 6.9mm aluminum casing. Camera detail is also a classic ring for iPhone fans, as the iPhone 6´s 8-megapixel camera comes with perks like Focus Pixels and Cinematic Video Stabilization. A fingerprint-dependent TouchID also adds a nice touch of security to it.
Smartphone-related specs

Full specs »





Ad - More top American Smartphone phones below
#2.
The LG Optimus Exceed 2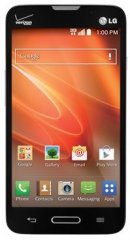 Gallery: 3 more pictures
Average Star Rating:


All the pros & cons

Description
An Android 4.4 KitKat model featuring the Knock Code, Guest Mode and Q-slide multitasking app -- the same mix found on other 2014 LG releases. The LG Optimus Exceed 2 sports a multi-functional 5-megapixel camera, which is somehow a standard feature among middle class Androids. It could potentially outlast the first Exceed phone, as it uses a 2100mAh SiO+ battery. It did retain some features from the first model including processing power (1.2GHz) and display resolution (800 x 400), with a slight drawback on on-board memory.
Smartphone-specific features

Full specs »
Don't Choose The Wrong American Phone!
Let Us Find Your Perfect Phone!
Our quick Celliminator cell phone finder tells you your best phone in less than a minute. Try it now or start here with the first question:
Question #1: Should it be a smartphone or not?

A)

Smartphones only.


B)

Regular, "dumb" phone only. No smartphones please!

You Should Also Be Interested In These: