Samsung Galaxy S8 Pros & Cons Review
- Analysis by Christelle Nina
Samsung goes big -- literally and figuratively -- with the Galaxy S8's infinity display. The result of Samsung's ongoing war against bezels, this smartphone features curved sides and the thinnest top and bottom bezels we have seen as of this article's writing. This results to an almost all-display facade with an attractive resolution of 2960 x 1440 pixels. While Sony's Xperia XZ Premium still leads the pack in terms of resolution with its 4K display, the difference between its 801DPI pixel density and the S8's 567DPI shouldn't be too stark -- considering the extent to which the human eye can actually discriminate between such stellar values.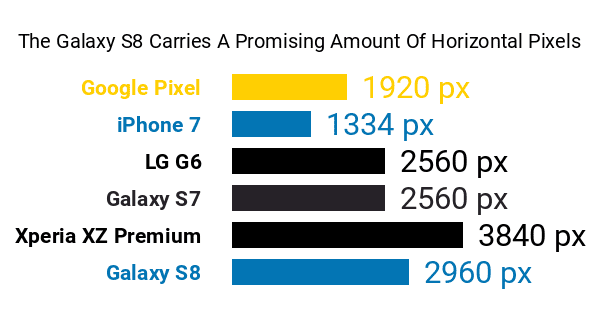 Don't Buy The Samsung Galaxy S8 Before You Check:
The Samsung Galaxy S7's 5-megapixel selfie camera has also tendered its much-awaited and long-overdue resignation. The new 8-megapixel front-facing sensor is far from being the most impressive selfie cam out there as far as raw resolution is concerned, but its edge lies on its being equipped with autofocus

and 1440p video-recording ability -- the highest selfie video resolution in our books as of March 2017

. Nothing groundbreaking has been introduced in the rear, however, and the S7's 12-megapixel Dual Pixel main shooter has been preserved.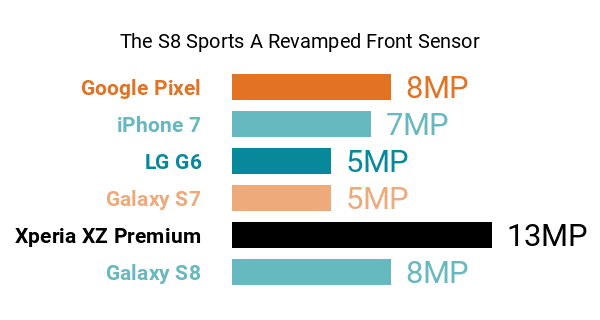 Next in this pros and cons list is the Samsung Galaxy S8's performance specs. Sporting a Qualcomm Snapdragon 835 CPU, it provides a considerable jump (in contrast to its predecessor) in terms of clock speed. It runs at a maximum of 2.35GHz

, which is aided by 4GB of RAM

.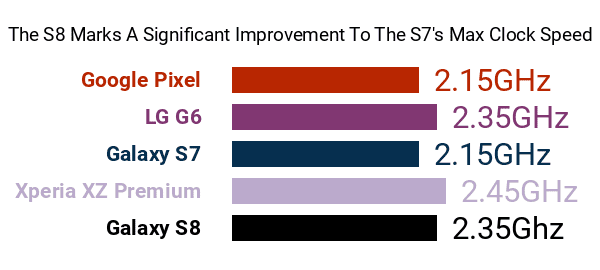 It's safe to say that the S8 carries a universal appeal that makes it pleasing to look at. Covered in Gorilla Glass 5 both at the front and back

, this sophisticated aesthetic comes at the cost of handiness. There isn't anything frustratingly-bulky about this device (save for its being relatively-thicker at 8mm

, if you're really nit-picky), but its polished surface and curved design makes it a prime target for accidents and the like

. At least, should mishaps happen in wet areas, the S8 still carries an IP68 rating against water and dust

. Another grievance we have with it is the weird placement of the fingerprint scanner

. Located right beside the rear camera, it's easy to see how the wrong placement of the finger can bring about unpleasant smudges on the camera lens.
Lastly, the S8 also retains the S7's 3000mAh battery

. While this amount of power may not seem too bad for its 5.1-inch ancestor, the S8's 5.8-inch screen and more powerful selfie camera may bring the battery too much strain.
As shown in this pros and cons review, the Galaxy S8 may not be the best-specked flagship out there, but it's definitely still a force to be reckoned with. Its 5.8-inch infinity display seems more than capable to produce enough x-factor for the device to be widely-clamored for, and on paper, it's poised to bring Samsung's much-needed redemption from the not-so-pleasant run it had last year.
Related: 2018 Best Phones By Category
** This phone is also known as: Samsung S8, Samsung Galaxy S 8, Samsung SM-G950




You Should Also Be Interested In These:
* Prices shown are only indicative. They were recently fetched by our system and may have changed meanwhile.