Samsung Galaxy S8 Plus Review & Pros And Cons
- Analysis by Christelle Nina
For a start, let's acknowledge the elephant in the room. Touting it as the infinity display, Samsung has shaved off as much bezel as possible in the 6.2-inch Galaxy S8 Plus

-- making it pretty much all-screen now, save for thin portions at the bottom and top where the selfie camera and other sensors are located. This has given rise to a highly-unconventional aspect ratio of 18.5:9 and a resolution of 2960 x 1440 pixels which, as Samsung notes, has half a million more pixels than your typical QHD screen

. Due to its expanse, its display fineness isn't the best in the flagship arena at 529DPI

(The Google Pixel XL boasts 534DPI) -- although the difference is marginal and theoretically impossible for the naked eye to distinguish. The Samsung Galaxy S7 edge's Super AMOLED tech and curved sides have been retained. Additionally, the S8 Plus' facade is protected by Corning Gorilla Glass 5

.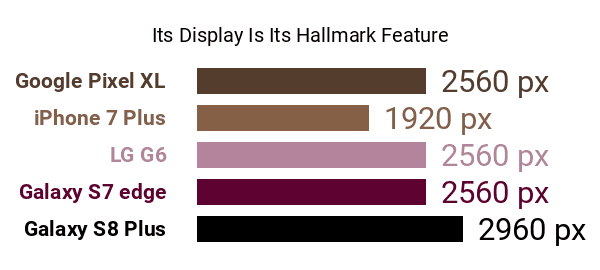 Don't Buy The Samsung Galaxy S8 Plus Before You Check:
Further building up the Samsung Galaxy S8 Plus' portfolio is its hardware. As expected, it's the first smartphone to come with Qualcomm's octa-core Snapdragon 835 processor

. This gives it the best maximum CPU speed among the top-tiers thus far in 2017, clocking in at 2.35GHz

. Memory-wise, it still comes with 4GB of RAM. For ROM, however, Samsung chose to do away with the 32GB variant and stuck to 64GB instead.

The usual 5-megapixel selfie camera has (finally) been decommissioned in the S8 Plus, bumping the front shooter resolution to 8-megapixels

. Two features regarding this spec stand out. First, it comes with autofocus

which is, by all means, not unheard off -- but isn't that common either. Second, the S8 Plus' selfie cam has the highest video-recording resolution we have seen as of March 2017, as it produces 1440p videos at 30fps

. As for the situation on the rear, the S7 edge's Dual-pixel 12-megapixel main shooter has been retained.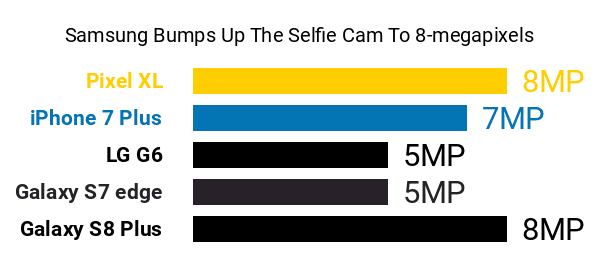 As for other nifty features (which are pretty much standard for flagships at this point), this model offers several unlocking options. The Note 7's iris scanner

makes a reappearance, adding to the fingerprint scanner and facial recognition option

in the S8 Plus' repertoire. It's also still IP68-rated against water and dust

and is VR-ready

. Another notable feature deserving of a place in this pros and cons analysis is the S8 Plus' Bluetooth tech. It comes updated with Bluetooth version 5.0

, which is good news for those who rely on this type of connectivity a lot. Other flagships, of course, are expected to follow suit.
Physically, the S8 Plus is one of the literal heavy-players at 173 grams

(although it's still lighter than the iPhone 7 Plus). Having a curved body and Gorilla Glass 5 back panel means that it's quite vulnerable to slipping and other accidents

as well, and this will likely not sit well with some. The placement of the fingerprint scanner is also quite odd

. Located at the right side of the camera, it's certainly not the most ergonomic position out there.
Lastly, we touch the issue (or non-issue) of its battery. Although it boasts 100mAh less than its curved predecessor (probably due to the entire Note 7 fiasco), it still has one of the beefier power packs in the premium market at 3500mAh

. Fast charging is also available both for wired and wireless charging

.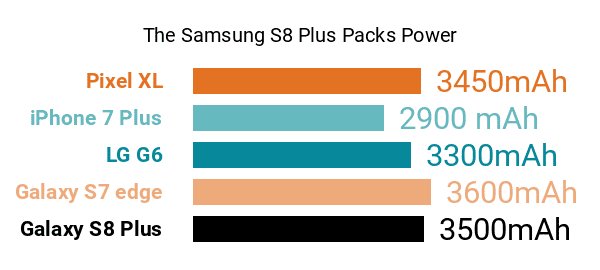 From the looks of it, the S8 Plus appears to not be just some boring upgrade as the infinity display really is something to brag about -- even for the most discerning of Android users. We had a few misgivings mainly in relation to the phone's ergonomics, but all in all, this pros and cons analysis shows that the Galaxy S8 Plus seems very eager to prove itself worthy of all the hype.
** This phone is also known as: Samsung S8 Plus, Samsung Galaxy S8+, Samsung S8+, Samsung S 8 Plus, Samsung SM-G955UZKA




You Should Also Check These Out:
* Prices shown are only indicative. They were recently fetched by our system and may have changed meanwhile.