Huawei Ascend Q Pros And Cons Review
Huawei manages to squeeze a full keyboard and a reasonable 3.2-inch capacitive display into the Ascend Q´s candy-bar form factor, which makes for an interesting touch-and-type set-up. The preinstalled Muve memory card is also a nice plus. The other features, on the other hand, are quite simple (an 800MHz processor and only a 3.2-megapixel camera).
Cons: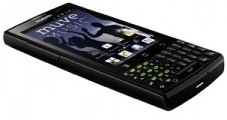 According to our calculations, the 3.2-inch touch screen only offers a 4.73 square inches surface for your fingers, which is kind of cramped.

Latest 50 Smartphones 2014 In Pictures
Smaller touch screen:
We hope you have small fingers, since the Ascend Q's touch screen has a smaller display surface to press on than many other smartphones. According to our calculations, it has a 4.73 square inch-display while
Kind of bulky:
We wouldn't say that the Ascend Q is a heavyweight, but 4.58 ounces may feel overweight.
SAR rating info not found:
We were unable to find SAR (radiation level) information for this phone.
Just a TFT?:
TFT displays are ok (they used to be the best option), but in such a high-end phone, we prefer AMOLED, or even SuperAMOLED displays, known for their brightness in sunlight, richer contrast and lower energy consumption.
Ad
Now, the Pros:
It includes a 4GB microSD card (3GB for Muve Music) memory card:
It's nice that it includes a 4GB microSD card (3GB for Muve Music) memory card.
** This phone is also known as: Cricket Ascend Q
*** These pros and cons are identified automatically based on our algorithm and the data we have on file for this cell phone. If you find an error, please let us know.
You Should Also Check These Out: