Top 1 Best Slider phones 2016


Slide phones (also called slider phones), present practically the same advantages as flip phones but are slightly easier to open with just one hand. Many slide phones use the extra space provided by the hidden keyboard to offer large displays and even touch-screens.

#1. The BlackBerry PRIV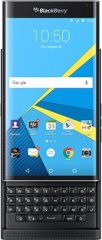 Description:
BlackBerry finally comes out of the wood and has the 2015 PRIV merge their signature elements with the popular Android ecosystem (v5.1.1 preloaded). Even though it sports a familiar bar-type facade with its 5.4-inch QHD dual-arced-edge display (Gorilla Glass 4), it manages to integrate a slide-out QWERTY keyboard into the design -- a touch-sensitive one! In addition, the PRIV comes with DTEK, a privacy-oriented toolkit developed by BlackBerry specifically for Android. It also rocks an 18-megapixel camera with phase-detection autofocus (PDAF) and a 4K video capacity. In charge of the processing is an hexa-core Snapdragon 808 processor (3GB RAM) and a 3410mAh Quick Charge 2.0 battery.
Form-factor-specific features:
More:
You Should Also Be Interested In These: