Best-Rated Samsung Camera phones February 2015
* Also exists for all brands.



This list shows the best Samsung camera phones.
Methodology
To be featured as one of the best Samsung camera phones, a mobile phone must have:
...been awarded one of the highest average review star rating
...above-average camera specifications: high-megapixel camera, special camera options and more.
We are confident that our technique results in a list of the very best Samsung Camera phones, based on multiple expert ratings, not just one.

#1.
The Samsung Galaxy Note 4 16-megapixel Camera Phone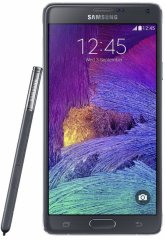 Gallery: 7 more pictures
Average Star Rating:


All the pros and cons

Description
Samsung´s S Pen-equipped sub-series moves forward with the Galaxy Note 4, a clear attempt at another premium seat for the Korean brand. Fronting this metal-framed Android is a 5.7-inch Quad HD Super AMOLED screen, a resolution that is larger than the 1080p FHD ones on most high-end devices. A Gorilla glass panel adds a touch of durability to it as well. Underneath, we found a 2.7GHz quad-core Snapdragon 805 engine paired up with an Adreno 420 (600MHz) GPU - both relatively recent versions. The Note 4´s 3220mAh battery promises to maximize usage time with the Fast Charge and Ultra Power-Saving features. Its front and back cameras also saw a boost, this time with 3.7 and 16 megapixels respectively, with 4K-recording loaded as well.
Camera-phone-related specs
Camera resolution: 16-megapixel
Camera options: Geo-tagging, Dual Shot, Touch Focus, Face/Smile detection, Panorama, Autofocus, HDR
Camera flash: LED

View full specs »




#2.
The Samsung Galaxy S5 Active 16-megapixel Camera Phone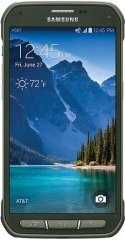 Gallery: 5 more pictures
Average Star Rating:


Full pros & cons

Description
Ruggedization meets the fifth-gen flagship smartphone from Samsung and gives us the Galaxy S5 Active. As their product naming suggests, its MIL-STD-810G certified casing and Corning Gorilla Glass 3 is an attempt to cater to different outdoor activities. It also has a feature that automatically launches all adventure-related apps such as maps and compasses onto the screen, which could take some pounds off your backpack. It still runs the same set of features that made the S5 a flagship model, including the 2.5GHz quad-core processor, 16-megapixel camera as well as LTE connectivity.
Camera-phone-related specs
Camera resolution: 16-megapixel
Camera options: Auto Focus, Dual-Camera, Dual-Recording, Geo-Tagging, HD Playback: Full HD (1080p), HD Recording: Full Ultra HD (2160p), LED Flash, Online Image Uploading, Photo Editing, Sharing Capabilities: AT&T Locker, Bluetooth®, Buddy Photo Share, ChatOn, Email, Flipboard, Gmail™, Google+™, Group Play, Messaging, NFC, Picasa™, S Beam™, S Memo, Samsung Link, Share Shot, Wi-Fi Direct™, Shot Modes: Auto, Beauty Face, Shot and more, Panorama, Virtual Tour, Dual Camera, Download, Slow Motion Recording
Camera flash: LED

View full specs »
Don't Choose The Wrong Samsung Phone!
Let Us Find Your Perfect Phone!
Our quick Celliminator cell phone finder tells you your best phone in less than a minute. Try it now or start here with the first question:
Question #1: Should it be a smartphone or not?

A)

Smartphones only.


B)

Regular, "dumb" phone only. No smartphones please!

You Should Also Check These Out: