Best Samsung Camera Phones September 2014
* Also check out for all manufacturers.



This page lists the best Samsung camera cell phones.
Methodology
To be part of the best Samsung camera phones, phones must have:
...been given one of the top average review score
...above-average camera requirements: high-resolution camera, camera options, software, etc.
We think that our approach most accurately returns the absolute best Samsung Camera phones, based on multiple expert and user evaluations, not just a single one.

#1.
The Samsung Galaxy Alpha 12-megapixel Camera Phone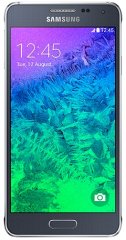 Description :
Samsung joins in on the octa-core sensation with the Galaxy Alpha´s two quad-core CPUs: Cortex-A15 (1.8GHz) and Cortex-A7 (1.3GHz). It also seems to pack top-notch imaging with its 12-megapixel camera´s 4K max video recording resolution. It lacks a microSD card slot, but does cap off at 32GB with 2GB RAM to boot. The Alpha also offers the fastest data rate available as of 2014, with up to 300Mbps on LTE-Cat6. All of its features, including an Ultra Power-Saving Mode (1860mAh battery) are packed within a metal frame, scrapping the plastic shell from previous Galaxy models.
Camera-phone-related features:
Ad - More top Samsung Camera phones below
#2.
The Samsung Galaxy K Zoom 20.7-megapixel Camera Phone
Description :
As its name suggests, the Galaxy K Zoom is one of Samsung´s camera-smartphones. It sports a 20.7-megapixel BSI camera that doubles up the resolution of average smartphones, as far as specsheets go. It also packs a Xenon flash and an onboard ISP chip, which they say facilitate better imaging compared to most other Android phones (and some digicams). Two processors (1.7GHz 2-core and 1.3GHz 4-core) also place it under the Hexa-core category - and there aren´t many of them. Pinch zoom and one-touch Quick Zoom add to its camera functions, not to mention 10x optical zoom on a relatively slim body.
Camera-phone-specific features:
Don't Choose The Wrong Samsung Phone!
Let Us Find Your Perfect Phone!
Our quick Celliminator cell phone finder tells you your best phone in less than a minute. Try it now or start here with the first question:
Question #1: Should it be a smartphone or not?

A)

Smartphones only.


B)

Regular, "dumb" phone only. No smartphones please!

You Should Also Be Interested In These: