Alcatel GO FLIP Pros & Cons Review
- Analysis by Christelle Nina
The GO FLIP by Alcatel is a clamshell-type phone with its share of hits and misses. Starting off with its camera-related pros and cons, we deem it worthy to mention that its 2-megapixel main sensor

is unimpressive for the most part. Of course, phones this type are rarely ever the bearer of amazing photography capabilities -- but since a number of 5-megapixel options already exist in the sub-category, we can't help but to expect a bit more camera resolution from it. However, the fact that it can capture HD videos

(that's 720p, for the uninitiated) is no doubt a pro.
As with photography-related specs, one really has no place expecting an ultra-thin profile from a flip phone. However, it's hard not to notice that the GO FLIP appears bulky compared to other similar models. It's 18.7mm-thick

, coming second only to the rugged Kyocera DuraXE (which obviously deserves more leeway when it comes to things like this, given its rugged features).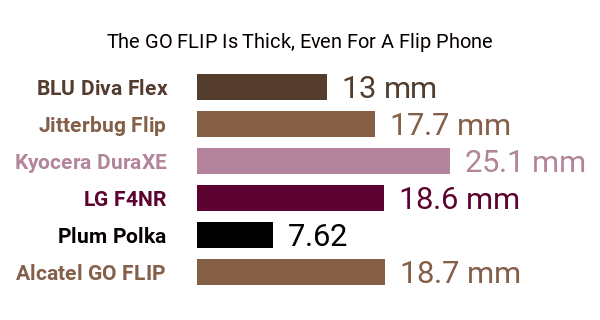 Don't Buy The Alcatel GO FLIP Before You Check:
In the face of these shortcomings, we were quite heartened by the GO FLIP's promising memory specs. Sporting 4GB of internal memory

and 512MB of RAM

, it easily stands out due to these features. To add to this, having a quad-core processor that runs at a respectable 1.1GHz

also helps.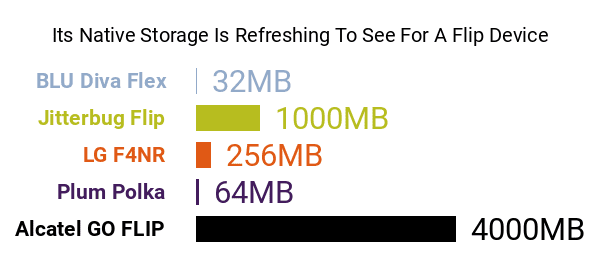 Battery-wise, the GO FLIP also offers significantly more juice, at 1350mAh

, than many of the competition. Boasting an 8-hour talk time

, it presents itself as a good option for flip phone fans who prefer to have more longevity to their devices, without having to go all out with an outdoorsy phone.
All in all, we definitely see the Alcatel GO FLIP as a realistic buy for people who would like to stick to using flip phones, but are finding themselves needing more memory and battery than the usual offering in this specific phone subcategory. Since it has a fair share of pros and cons, this phone is obviously not the most premium clamshell device out there -- so if that's what you're into, you might want to check out other Smart Flip Phones on our site.
On-paper Review score:

Pros:
Incredibly low radiation:
It has a SAR rating of only 0.53 w/kg, on a scale of 0 to 1.60 w/kg.
Memory can be expanded Up to 32GB:
The GO FLIP doesn't come with an included memory card but it has a slot for Up to 32GB in memory expansion, which is convenient to store pictures and video clips shot with the included 2-megapixel camera.
High frames-per-second (FPS) video rate:
It records video clips at 30 frames per second, which is a high-enough fps rating by today's video phone expectations.
Good battery life:
Alcatel says that the Alcatel GO FLIP provides 480 minutes of talk time. If it proves true in the real life, it may be a great advantage.
Cons:
Ostensibly no HDMI plug:
It's great that the Alcatel GO FLIP can record fancy 1280 x 720 videos, but we're surprised we didn't find any sign of the GO FLIP sporting an HDMI port (which comes in handy to watch HD videos on your shiny HDTV without having to move them first to your computer).
Unknown weight:
It's disappointing that we were not able to find information about its weight.
** This phone is also known as: Alcatel FLIP GO
*** These pros and cons are generated automatically based on our analysis formula and the specifications we have in our database for this phone. If you spot a mistake, please let us know.



You Should Also Be Interested In These:
* Prices shown are only indicative. They were recently fetched by our system and may have changed meanwhile.