Alcatel U5 HD Review & Pros And Cons
- Analysis by KJ David
Despite staying within entry-level bounds, the Alcatel U5 HD manages to squeeze in a few upgrades (ergo, additional pros) over the original U5.
For instance, it now sports a 5-inch HD (1280 x 720) On-Cell IPS display

, scrapping the slightly-older version's depressing WVGA (854 x 480) definition. Keep in mind, however, that an HD-720p screen resolution is only acceptable by low-end standards, since Full HD seems to have taken over the mid-range market as of its release.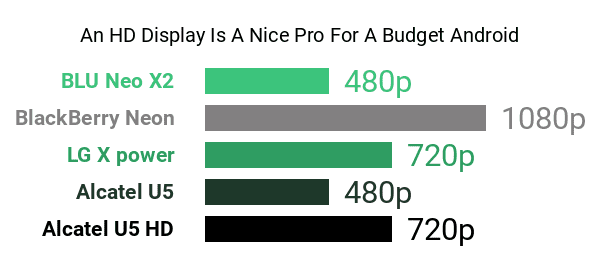 Don't Buy The Alcatel U5 HD Before You Check:
Related: Alcatel U5 Budget Smartphone
Another improvement over the plain U5's specs is top-up memory allowance. While retaining the unremarkable 8GB-only inbuilt memory

, the U5 HD slaps on support for up to 128GB's worth of external storage

, easily dominating the original's 32GB-only allowance.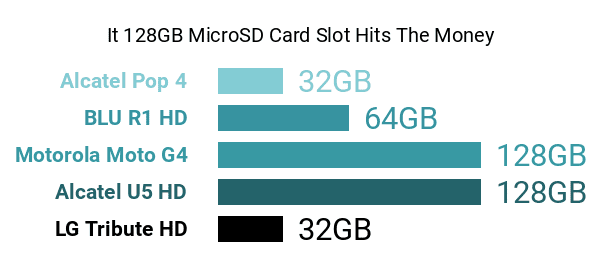 Related: Best 2017 Alcatel Phones
The U5 HD's imaging pros and cons also tell a different story (a much better one, for that matter) compared to the U5, now rocking an 8-megapixel rear camera (the U5 settles for a 5-megapixel cam) interpolated to 13 megapixels

. Likewise, the U5's dismal 2-megapixel selfie cam got replaced by a 5-megapixel LED-flash-rigged front-facing camera that mimics the performance of a full-blown 8-megapixel cam through interpolation

. Moreover, Alcatel threw in some niceties for the selfie addict looking for a budget Android phone. These include functions like Face Mask and Face Show as well as a dedicated Selfie Album

.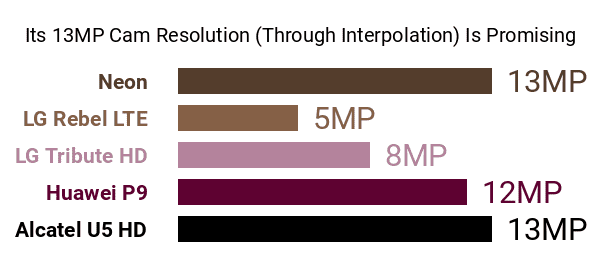 Related: Best Android phones with secondary camera
Jumping inside the U5 HD's matte-and-glossy (dual finish) shell

, we were disappointed in its utterly-low-end 1.25GHz MediaTek quad-core processor

and prehistoric 1GB RAM capacity

. Additionally, it only packs 2200mAh of battery power

, which is less-than-ideal, even when seen from an entry-level standpoint. Trying to make up for its low-end hardware components, though, is the U5 HD's network and connectivity suit, led by an LTE Cat 4 network adapter, reaching a peak data rate of 150Mbps

-- more-usually seen on higher-specked models. Additionally, it supports both VoLTE and VoWiFi

, with NFC (Near Field Communication) joining in as well.
Having explored its pros and cons, it's clear that the U5 HD is a budget-class Android for users who do not mind low-end hardware pieces, as long the phone offers more-than-basic imaging capabilities.
On-paper Star rating:

First, the Cons:
Ostensibly no HDMI port:
It's all well and good that the Alcatel U5 HD can record high-resolution 1280 x 720 movies, but we were disappointed not to find any evidence of the U5 HD featuring an HDMI port (which is convenient to watch HD videos on your shiny HDTV.)
Slower smartphone:
Not too long ago, this smartphone's processing specs would have appeared nice, but compared to recent smartphones, this 1.25GHz MediaTek 6737 processor with only 1GB of RAM looks a little pale.
Unknown weight:
It's frustrating that we could not find its weight information.
Pros:
NFC-enabled:
NFC is used by electronic payments and other applications.
Quad processor:
Not only does it have a 1.25GHz processor clock speed, but it also has 4 cores.
Very large screen:
We're dealing with a hefty display here, making it a phablet: 5 inches and a resolution of 1280 x 720 pixels means about 10.68 square inches and an image quality of at least 293.58 dots per inch (DPI)!
The memory can be expanded up to 128GB (FAT 32 format):
The U5 HD is not sold with a memory card but it can accept up to 128GB (FAT 32 format) in memory expansion, which is convenient to store pictures and video clips taken with the built-in 8-megapixel (interpolated to 13-megapixel) camera.
High-resolution (8-megapixel (interpolated to 13-megapixel)) camera:
It includes a high-resolution built-in camera (8-megapixel (interpolated to 13-megapixel)) with the following options: Instant Collage, Easy Shot, Face Mask, Face Show.
Decent-resolution selfie cam:
The selfie cam resolution seems just about average.



You Should Also Be Interested In These:
* Prices shown are only indicative. They were recently fetched by our system and may have changed meanwhile.