Huawei P Smart Pros & Cons Review
- Analysis by KJ David
The Huawei P Smart, also known as the Enjoy 7S in China, mixes some middle-class and high-end specs, with a FullView display and a dual camera leading the way. That being said, it also comes with several dowdy cons, including its 8-megapixel-only selfie camera

, which at least delivers an AI-powered portrait mode and the Face Beauty algorithm

that analyzes subjects' facial features and slaps on some matching enhancements. In comparison, some models in our list of the best phones for selfie addicts have front-facing cams that go well beyond 13 megapixels. Its 64GB (or 32GB internal memory

, depending on which variant you go for) also sounds like a slight letdown, considering that full-blown high-end devices pack at least 128GB of on-board storage.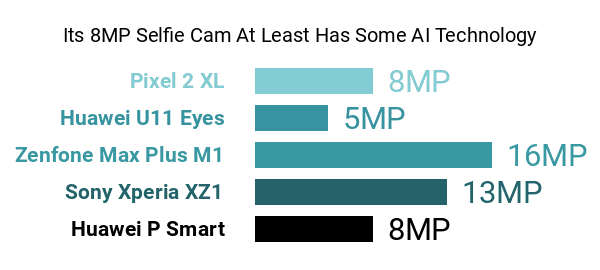 Don't Buy The Huawei P Smart Before You Check:
Jumping over to its pros, the P Smart touts a 13- plus 2-megapixel dual-lens primary camera

, largely for depth-of-field analysis and bokeh shots. It also joins the 18:9 display aspect ratio movement

(which was one of the hottest high-end trends as we were reviewing its feature set) through its 5.65-inch FullView FHD+ (2160 x 1080) 428ppi display. Having said that, it may have trouble snagging a spot in our list of best phablets, since some higher-specked devices shoot for QHD+ (1440p) definitions and AMOLED/OLED screen architectures -- the P Smart has a dated TFT display type

.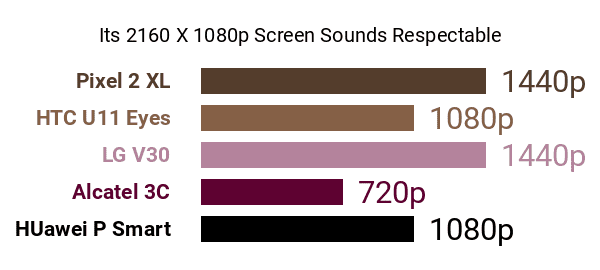 At the helm of its security pros and cons is a facial recognition system

that works hand-in-hand with its standard fingerprint scanner (rear-mounted)

to safeguard user info and the device itself. Moreover, it supports double Bluetooth connections

, which means that users can receive calls on a stereo Bluetooth headset and play music through their car's audio system at the same time. Its mere 7.45mm body depth

sounds like a nice touch as well, considering that the average smartphone thickness as of its release floated around the 8.6mm mark.

As for hardware, the P Smart is powered by a 16nm Kirin 659 dual-cluster eight-core processor running at 2.36GHz + 1.7GHz

, with a respectable 4GB RAM

(A 3GB-only version is also available) tagging along. It feeds off a 3000mAh battery

that sounds like a decent match for its aforementioned pros and cons.

Related: Fastest Android Phones
With all that in perspective, the Huawei P Smart is a middle-class Android that makes up for its lackluster (at least in terms of resolution) selfie cam and storage memory through an expansive FullView display and a dual rear camera.
On-paper Review score:

Cons (or Not-so-great Features):
Unknown weight:
It's frustrating that we could not find its weight information.
Now, the Pros:
Faster processor:
Its Quad 2.36GHz (+ Quad 1.7GHz) processor speed combined with 8 cores is part of the fastest.
NFC-enabled:
NFC is becoming increasingly important for electronic payments and other applications.
Very large screen:
We're dealing with a hefty display here, making it a phablet: 5.7 (actual diagonal is 5.65 inches) inches and a resolution of 2160 x 1080 pixels means about 13.01 square inches and an image quality of at least 428 dots per inch (DPI)!
High-resolution (13-megapixel (with 2-megapixel sub-cam)) camera:
It sports a high-resolution built-in camera (13-megapixel (with 2-megapixel sub-cam)) with the following options: Skin Photo, Steamer Shutter, Time-lapse.
Decent-resolution selfie cam:
The selfie cam resolution seems just about average.
** This phone is also known as: Huawei Enjoy 7S (China)
*** These pros and cons are spotted automatically based on our analysis formula and the specifications we have in our database for this item. If you see a mistake, please let us know.



You Should Also Be Interested In These:
* Prices shown are only indicative. They were recently fetched by our system and may have changed meanwhile.