LeEco Le S3 Review & Pros And Cons
- Analysis by Christelle Nina
At the heart of the LeEco Le S3 is a Qualcomm Snapdragon 652 processor, which, at eight cores

, is an improvement to the Le Pro 3's quad-core processor from a multi-tasking perspective, but it only revs at 1.8Ghz

. Also, lowering the RAM from the latter's 4GB to a slightly-lower size of 3GB

pales in comparison to other unlocked phones like the OnePlus 3T (see our graph below). In addition, it is worth noting that octa-core processors have become increasingly-common as far as phones in the same unlocked and dual-SIM market is concerned.

Don't Buy The LeEco Le S3 Before You Check:
As for imaging pros and cons, this model comes with a 16-megapixel main camera and an 8-megapixel front camera, which are both just on-par with similar models. However, its edge lies in its 4K video-recording ability

-- letting users capture clips at a resolution of 3840 x 2160. It shares this feature with the Le Pro 3, but it does so at a lower price. Corresponding models at the same price range typically offer video resolutions at a maximum of 1920 x 1080 pixels.
Perhaps one of the biggest cons one may find with this product is the fact that it does not accommodate memory expansion

. And at 32GB of on-board memory, storage churners may not find this limitation easy to work with. This is considering that a lot of other phones, even at lower price points, offer memory expansion slots of up to 128GB on top of their built-in memories.
Next on its pros and cons list is the 5.5-inch display, which offers a respectable 1920 x 1080 resolution. At 403 DPI, it's a lot better compared to the average for all phones of its time, but not significantly different relative to comparable models. Nonetheless, its Corning Gorilla Glass 3 display

definitely presents a pro.
Related: Phablets And Large Smartphones
Battery-wise, the Le S3 comes with a pretty average (again, within its sub-category) 3000mAh battery. But the fact that this comes in its 7.5mm-thick body is noteworthy, illustrated by the fact that its 400 mAh-battery-power-to-mm-thickness ratio

beats that of many other models of its category, such as the popular Moto M. Also, it comes equipped with Qualcomm Quick Charge 3.0

, which we hope should help replenish its battery more quickly.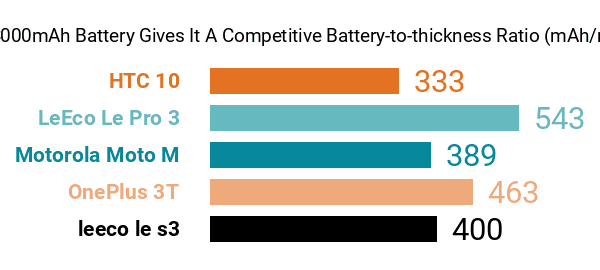 The S3's metal unibody is reminiscent of recent iPhones (definitely a pro), as well as not sporting a 3.5mm headset port (though they include an adapter), but the cruising along with Apple stops there, as LeEco opted for a USB type-C port, the reversible one. Either way, you should try our Celliminator Phone Finder, which finds your best 5 phones.
On-paper Star rating:

Let's Look at the Cons:
Unknown touch-screen type:
We were unable to find out whether it sports a resistive or capacitive touch screen.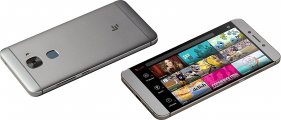 Are these leeco le s3 pros and cons sharing material?
Apparently no HDMI plug:
We're delighted that the LeEco Le S3 can record fancy 3840 x 2160 videos, but we're surprised we didn't find any sign of the Le S3 sporting an HDMI port (which comes in handy to watch HD videos on your shiny HDTV without having to move them first to your computer).
Is there a memory expansion slot?:
According to our research, it doesn't feature any memory expansion slot.
Unknown weight:
It's frustrating that we could not find its weight information.
And Now, the Pros:
Faster microprocessor:
The speed of its Qualcomm Snapdragon 652 microprocessor (1.8Ghz) with 8 cores is among the fastest in the current market.
Very large screen:
The screen is larger than usual, making it a phablet: 5.5 inches and a resolution of 1920 x 1080 pixels means about 12.93 square inches and an image quality of at least 403 dots per inch (DPI)!
Much higher-definition photos:
A 16-megapixel camera offers many more pixels than most phones. It also has these features: Panorama Mode, Slow-Motion Video.
Average-resolution additional cam:
The selfie camera resolution seems just about average.
** This phone is also known as: LeEco Le X522, LeEco S3
*** These cons and pros are identified automatically based on our proprietary algorithm and the specs we found for this phone. Should you spot an error, please let us know.



You Should Also Check These Out:
* Prices shown are only indicative. They were recently fetched by our system and may have changed meanwhile.