Lenovo K8 Pros & Cons Review
- Analysis by KJ David
While Lenovo's K-series Android family has come pretty far, the 2017 Lenovo K8 does not quite move its series forward, packing rather familiar (yet positive, nonetheless) high-end pros alongside some slightly-outmoded cons.
First on our list is its MediaTek Helio P20 eight-core processor running at a relatively-high 2.3GHz

, a flagship-class engine that also powers some of its contemporaries. The aforementioned processor is competently assisted by a 3GB RAM

, while a robust 4000mAh battery

, which claims to run for up to 1.5 days on a single charge, is in charge of its power supply.
Related: Best octa-core smartphones
Don't Buy The Lenovo K8 Before You Check:
Further down the K8's list of pros and cons, we caught a disgruntling HD-only (1280 x 720) 5.2-inch screen

, which flounders when compared to the Full HD (1920 x 1080) displays touted by some of its rivals. It does have a 2.5D glass finish

, though, adding a nice touch durability-wise. As for its audio capabilities, even though the K8 mimics other high-end Lenovo Androids with its Dolby Atmos audio system

, we are not impressed with its single rear-ported speaker

, especially since multimedia smartphones with dual frontal speakers were no longer uncommon when it entered the market.
Related: Best phablets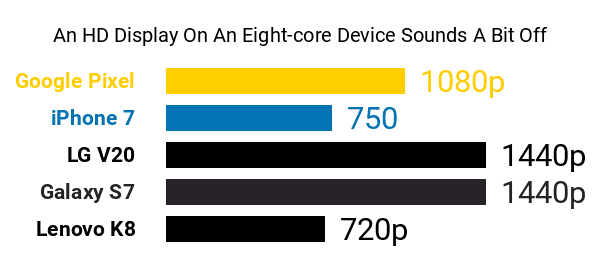 For its imaging, the K8 relies on a satisfactory 13-megapixel LED-flash camera with phase-detection autotofocus

, while an 8-megapixel camera (a rather so-so resolution, by 2017 measures

) equipped with its own front-firing flash

is on selfie duties. Also part of its assortment of pros and cons is a standard fingerprint sensor

that users can use to access the device and keep delicate information/apps secure.
Related: Best Android phones with secondary camera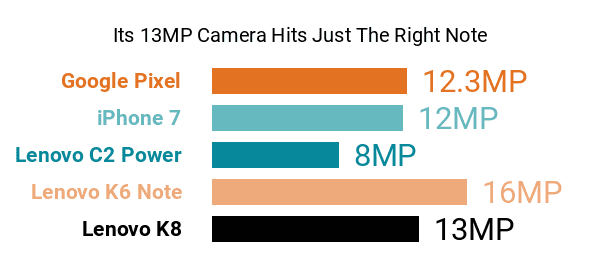 A few more of the Lenovo K8's specs include a 32GB memory, which sounds just about right, considering that ties some high- and middle-class features together. It also offers LTE Cat 4 connectivity of up to 150Mbps (50Mbps on uploads) as well as the VoLTE call audio technology.
Running on Android 7.1 Nougat out of the box and coming in either Venom Black or Fine Gold, the K8 ends up as an upmarket phone whose multimedia offering could have used a boost, but whose processing components should appeal to the process-hungry and power-meticulous user, all things considered.
On-paper Review score:

First, the Cons:
Unknown SAR rating:
We didn't find SAR (radiation level) information for this phone.
Unknown weight:
It's frustrating that we could not find its weight information.
Pros:
Faster processor:
Its 2.3GHz processor speed combined with 8 cores is part of the fastest.
Very large screen:
We're dealing with a hefty display here, making it a phablet: 5.2 inches and a resolution of 1280 x 720 pixels means about 11.55 square inches and an image quality of at least 282.56 dots per inch (DPI)!
High-resolution (13-megapixel) camera:
It sports a high-resolution built-in camera (13-megapixel)
Decent-resolution selfie cam:
The selfie cam resolution seems just about average.
** This phone is also known as: Lenovo K-8
*** These pros and cons are identified automatically based on our algorithm and the data we have on file for this cell phone. If you find an error, please let us know.



You Should Also Check These Out:
* Prices shown are only indicative. They were recently fetched by our system and may have changed meanwhile.