LG Aristo 2 Pros & Cons Review
- Analysis by KJ David
A successor to the 2017 LG Aristo that offers practically no upgrade over its predecessor, the 5-inch LG Aristo 2 is made up of many budget-tier pros and cons, probably making it fit for the Android shopper with practicality in mind.
Its biggest drawback comes in the form of an old-fashioned 5-megapixel front-facing camera

, which obviously flounders in comparison to the 8-megapixel selfie cams rocked by several tantamount models. If a low-resolution camera is just not for you, make sure to check out our list of the best selfie smartphones. Going back to its cons, the Aristo 2 modestly-runs on a 1.4GHz quad-core processor

, despite eight-core smartphones being widely available when it came out, even in the budget-tier end of the Android spectrum. Also, it settles for only 1.5GB of RAM

, though MetroPCS also indicated 2GB in another part of their website as of this data-driven review, but that would still be nothing to call home about.

Don't Buy The LG Aristo 2 Before You Check:
For its strong points, the Aristo 2 brings back its base model's 13-megapixel rear camera clubbed with phase-detection autofocus (PDAF)

, which is somewhat a favorable mismatch for its low-end quad-core CPU. That said, most models in our list of the best camera phones go well beyond 13 megapixels. We also found its 1020-minute maximum talk time

and 344-hour standby time

, both of which are above the corresponding averages as of its market entry, reassuring, especially because its 2410mAh raw power capacity

does not exactly fit our definition of generous -- check out some full-fledged heavy-duty phones here.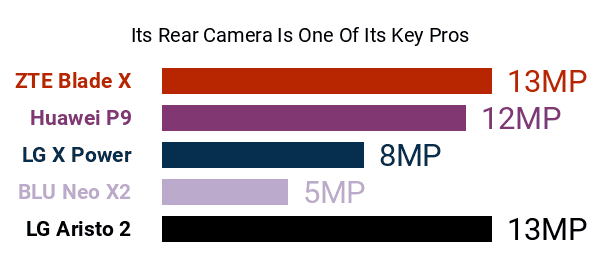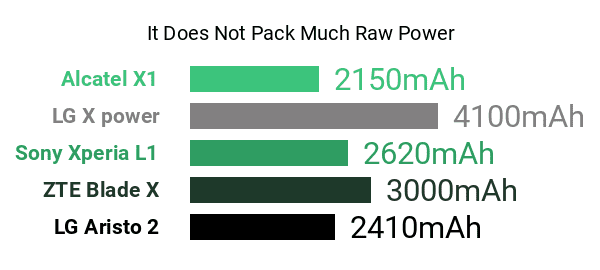 Also among its specs are a decent (relative to its overall profile of pros and cons, that is) 5-inch HD-720p display and a facial recognition system

dedicated to device security. Lastly, it comes with 16GB of on-board memory

that weirdly supports only up to 32GB of expansion

.
With all that said, much like the original LG Aristo, the Aristo 2 is geared towards pragmatic users who appreciate above-average battery scores and a respectable primary camera.
On-paper Review score:

Cons:
Unknown SAR rating:
We didn't find SAR (radiation level) information for this phone.
Slower smartphone:
Unknown weight:
It's disappointing that we could not find its weight information.
Now, the Pros:
Quad microprocessor:
Not only does it have a 1.4GHz processor clock speed, but it also has 4 cores.
Very large display:
We're dealing with a hefty display here, making it a phablet: 5 inches and a resolution of 1280 x 720 pixels means about 10.68 square inches and an image quality of at least 293.58 dots per inch (DPI)!
High-resolution (13-megapixel) camera:
It includes a high-resolution built-in camera (13-megapixel)
Decent-resolution selfie cam:
The selfie cam resolution seems just about average.



You Should Also Check These Out:
* Prices shown are only indicative. They were recently fetched by our system and may have changed meanwhile.