LG Aristo 2 Plus Review & Pros And Cons
- Analysis by KJ David
Not only does the LG Aristo 2 Plus look just like its base model, it also shares most of its pros and cons, still suffering from drawbacks like a mere 32GB maximum external memory support

, despite coming with an appreciable (by 2018 low-end measures) 16GB internal memory

. Additionally, it does not upgrade the Aristo 2(')s middling 2410mAh battery capacity

-- a few similarly-specked budget smartphones pack roughly 2800mAh of raw power. If you(')re into full-blown heavy-duty phones, however, look no further than this Phonerated list of the best big-battery phones.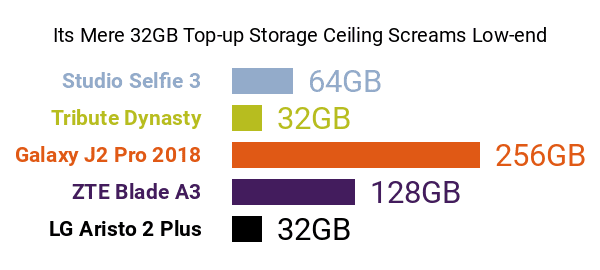 Don't Buy The LG Aristo 2 Plus Before You Check:
Camera-wise, the Aristo 2 Plus brings back its sibling(')s 5-megapixel-only selfie camera

. That said, it still comes with LG(')s Selfie Light screen flash function

as well as signature LG-branded pros like Gesture Shot and Auto Shot, making the forenamed front cam a tad easier to digest. Its selfie cam also delivers the phone(')s user facial recognition system

, which, in conjunction with a rear-mounted fingerprint detector, gives the Aristo 2 Plus a slight advantage versus several other entry-level contenders.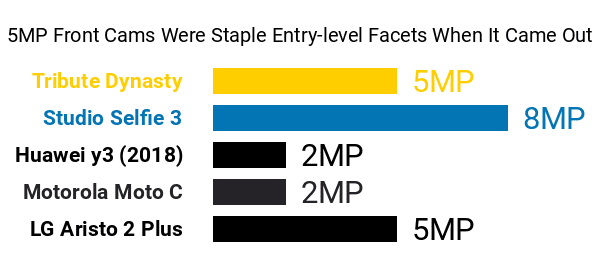 Related: The Best Selfie phones 2022 (and 2021)
This Plus edition is also no different from its base model in terms of its primary camera, still rocking a 13-megapixel PDAF-rigged (phase-detection autofocus) rear cam

that was rather favorable, coming from a low-budget Android, at least as of this specs-driven review. It features an HDR Mode, Cheese Shutter, and a typical FHD (1920 x 1080) maximum video-recording resolution.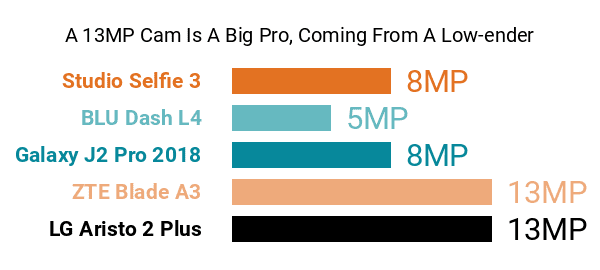 Where the Aristo 2 and this Plus version (both are carried by T-Mobile) do differ is in terms of their 4G network capabilities. While the plain Aristo 2 supports only up to LTE Band 66, this Plus model supports T-Mobile(')s 600MHz LTE Band 71

, making it one of the fastest 4G-enabled phones in its price group -- discover the newest 4G-ready phones here.
The Aristo 2 Plus is fitted with a passable 5-inch HD-720p In-Cell IPS display, underneath which runs a modest Qualcomm Snapdragon 425 quad-core 1.4GHz processor

that(')s at least accompanied by 2GB of RAM

-- some comparable models stick to discouraging 1GB-only RAMs.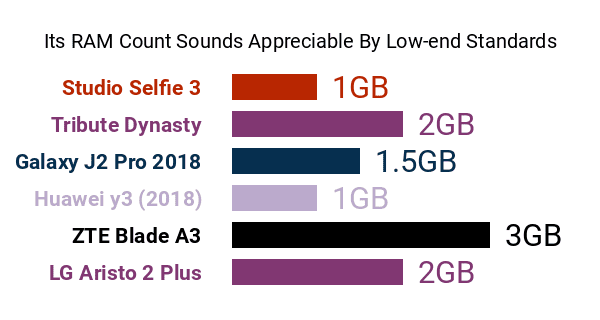 It runs Android 7.1.2 Nougat out of the box and, as usual for an entry-level Android, is only offered in one color -- Moroccan Blue. So, given its pros and cons, this Plus edition of the LG Aristo 2 is obviously a relatively cheap ticket into 4G web browsing that also has some perks on the security and imaging fronts.
On-paper Star rating:

Let's Look at the Cons:
Ostensibly no HDMI port:
It's all well and good that the LG Aristo 2 Plus can record high-resolution 1920 x 1080 movies, but we were disappointed not to find any evidence of the Aristo 2 Plus featuring an HDMI port (which is convenient to watch HD videos on your shiny HDTV.)
Unknown weight:
It's frustrating that we could not find its weight information.
Pros:
Quad processor:
Not only does it have a 1.4GHz processor clock speed, but it also has 4 cores.
Very large screen:
The screen is larger than usual, making it a phablet: 5 inches and a resolution of 1280 x 720 pixels means about 10.68 square inches and an image quality of at least 293.58 dots per inch (DPI)!
High-definition (13-megapixel) camera:
It includes an advanced built-in camera (13-megapixel) with the following options: 15-Second Auto Edit, Burst Shot, Cheese Shutter, Clear Shot, Geotagging, HDR Mode, Quick Image View, Quick Video Editor, Quick-sharing, Self-Timer, Shutter Sound.
Dual-SIM model:
It can hold two simultaneous SIM cards, therefore letting you hop from one network to another if you own two SIM cards.
Average front cam:
The selfie cam resolution seems just about average.



You Should Also Be Interested In These:
* Prices shown are only indicative. They were recently fetched by our system and may have changed meanwhile.