LG Exalt LTE Review & Pros And Cons
- Analysis by Christelle Nina
This LTE version of the original LG Exalt has more to offer than just 4G capabilities

. The following pros and cons will reveal that it is, in the end, still a relatively-simple flip phone compared to models of the same form factor from other brands -- making it a viable choice for the basic flip smartphone market.
Right off the bat, one can readily notice that the LG Exalt LTE does not have a selfie camera

, which means that it isn't for those who depend on video-calling for a significant part of their communicative lifestyle. It doesn't have an LED flash anywhere, either

. Resolution-wise, it's at a pretty-average 5 megapixels. This is a decent figure, but its solitary pro in the imaging specs arena is really the fact that it offers autofocus

.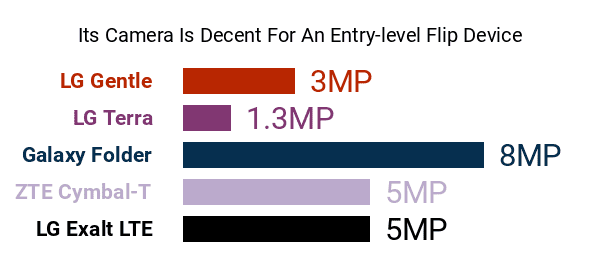 Don't Buy The LG Exalt LTE Before You Check:
Its display is unimpressive at 155DPI

, as well. This value stems from a 3-inch screen that has a resolution of an almost-paltry 400 x 240 pixels

.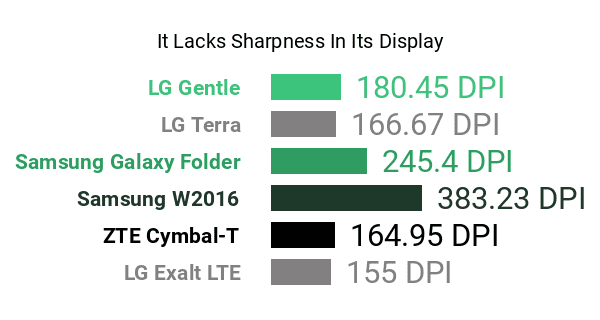 Veering off this stream of cons, we mention that the Exalt LTE is quite compact (depth-wise) compared to its rivals at 0.69 inches

.
Related: Thinnest Phones
For performance pros and cons, its hardware performs relatively-better than most of its other specs, with a Qualcomm Snapdragon 210 processor running its functions. At a clock speed of 1.1GHz

, it's not the fastest CPU in this subcategory per se, but it's a promising spec, considering this device's market range.
Things take a turn for the worse, however, when it comes to this model's battery. At 1470mAh

, it only gives the user six hours of talk time

.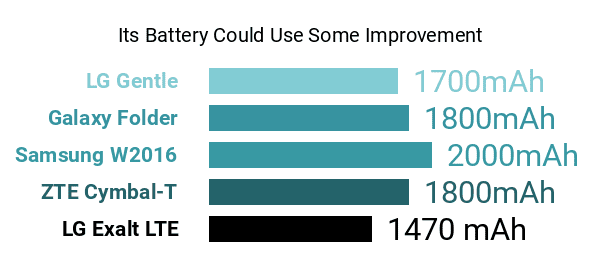 What it lacks in raw specs in some departments, it attempts to make up for in other nifty features. It boasts special keys for the camera, the speakerphone, and for voice command activation

. To add, it offers a text-to-speech function

, which is a steal, given its status as, like previously-mentioned, an entry-level smart flip phone.
Related: Smart Flip Phones
** This phone is also known as: LG VN220, LG Exalt LTE Verizon Wireless



You Should Also Check These Out:
* Prices shown are only indicative. They were recently fetched by our system and may have changed meanwhile.