LG G7 ThinQ Pros & Cons Review
- Analysis by KJ David
The LG G7 ThinQ is a premium-class phablet (Explore its flagship phablet competitors here) that, unfortunately, is not blessed with a generous battery, settling for a mere 3000mAh cell

, whereas several of its wide-screen rivals boast more than 4000mAh's worth of raw power. Its 100-hour standby time with AoD on (Always-on Display)

could put a lot of stamina-cautious shoppers off as well.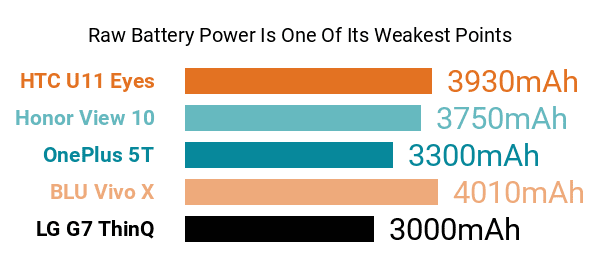 Don't Buy The LG G7 ThinQ Before You Check:
Those cons aside, the G7 ThinQ still winds up as one of LG's highest-specked smartphones (at least as of this specs-driven review), touting a 6.1-inch QHD+ (3120 x 1440) FullVision Super Bright Display whose screen brightness can shoot up to 1000 nits

, which sounds blinding, compared to the 500-nit-bright displays touted by most of its contemporaries. Moreover, it boasts a New Second Screen feature

that essentially lets you customize the phone's display notch and it scores a VR-level 564ppi pixel density

-- check out other VR-ready smartphones here. Additionally, its 19.5:9 aspect ratio

was as expansive as it got for smartphones when it debuted.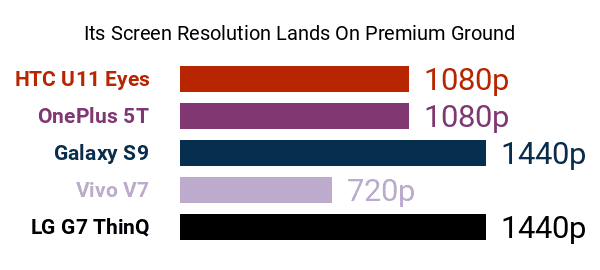 As its name suggests, the G7 ThinQ is part of LG's self-branded internet of things -- ThinQ. This means that this Android can be used to remotely control other ThinQ electronics

, such as smart TVs and various kitchen appliances.
The G7 ThinQ is powered by a Qualcomm Snapdragon 845 eight-core 2.8GHz processor

, earning it a seat alongside the fastest phones on the market. It comes with 4GB of RAM and 64GB of memory, but a step-up model, aptly called the G7+, is loaded with 6GB of RAM and 128GB of inbuilt storage. While its 4GB or 6GB RAM count sounds decent, though, the techies in us cannot help but wish that it aimed for a spot among premium 8GB-RAM phones

, especially with the kind of pros and cons that it brings to the table. Both versions support up to 2TB's worth of top-up memory

.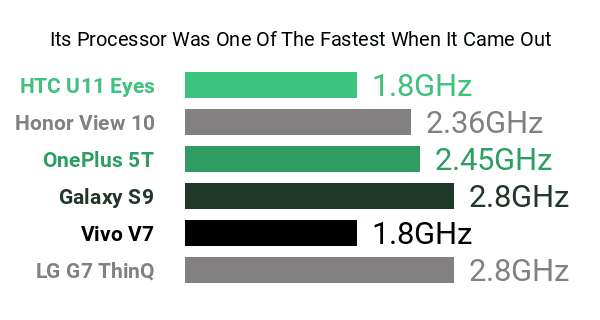 As for imaging, the G7 ThinQ challenges the best photography-driven smartphones with its dual 16-megapixel rear camera

, one of which is a super wide-angle (107 degrees) lens, while the other is a standard angle deputy lens. Its imaging pros and cons are led by AI CAM

, an imaging suite that uses AI technologies for automatic scene recognition and photo enhancements. Sadly, its selfie cam, which stands at a mere 8 megapixels

, fails to keep up with its sophisticated rear cam -- several tantamount models boast selfie shooters with resolutions of more than 13 megapixels.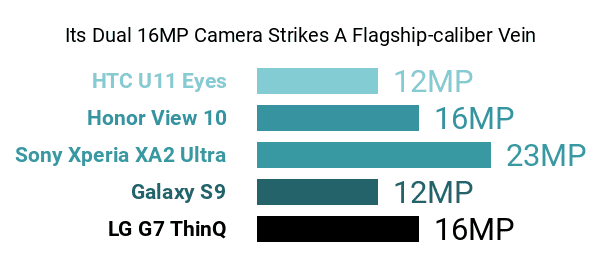 Its feature set also includes an IP68-rated water- and dust-resistant casing

combined with front-and-back Corning Gorilla Glass 5 panels

. Also, it features a built-in Google Assistant Key that users can double-click to quick-launch the Google Lens visual analysis tool.
To rehash, the G7 ThinQ is a flagship-caliber phablet that could have done better in terms of battery capacity, but is nevertheless geared towards a tech-savvy clientele.
On-paper Review score:

Let's Look at the Cons:
Surprisingly low battery life:
The G7 ThinQ's 930 minutes of talk time are much lower than what you usually see.
Unknown weight:
It's disappointing that we could not find its weight information.
Pros:
Rugged:
It is described as a rugged phone (more sturdy, better water-resistance, etc).
Faster processor:
Its processor speed of 2.8GHz combined with 8 cores is part of the fastest.
NFC-enabled:
NFC is used by electronic payments and other applications.
Very large display:
The screen is larger than usual, making it a phablet: 6.1 inches and a resolution of 3120 x 1440 pixels means about 14.18 square inches and an image quality of at least 564 dots per inch (DPI)!
Very high-resolution camera:
The G7 ThinQ is has an exceptional 16-megapixel (wide-angle cam combined with a 16-megapixel standard-angle cam) camera. It also sports these features: Portrait Mode.
Average front cam:
The selfie cam resolution seems just about average.



You Should Also Be Interested In These:
* Prices shown are only indicative. They were recently fetched by our system and may have changed meanwhile.