LG K20 V Review of Pros And Cons
- Analysis by Christelle Nina
The K20 V is essentially a mid-range device that offers a balanced mix of pros and cons. LG has noticeably chosen to prioritize some features, and as such, these aspects of the device stand out. On the other hand, some have evidently been compromised to make the aforementioned pros possible.
Starting off with display pros and cons, the K20 V's 5.3-inch display has a resolution of 1280 x 720 pixels. Combining these two specs results to a pixel density of 277DPI, which is below-standard in the mid-range category

. We usually see sub-300DPI screens on budget smartphones, so this particular facet puts the K20 V at a great disadvantage. However, its curved Panda Glass display finish

merits appreciation.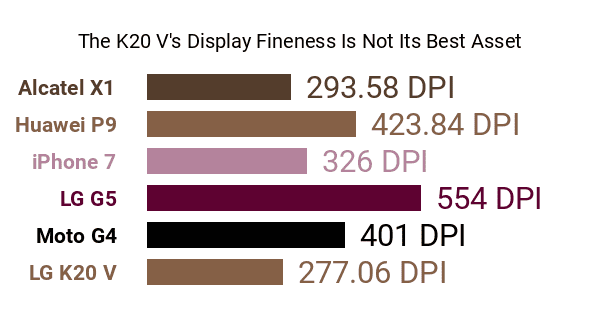 Don't Buy The LG K20 V Before You Check:
The resolution that its 13-megapixel main camera

offers is reasonable for its price group. It doesn't compare to higher-tier Androids like the LG G5, but it does beat the iPhone 7 in terms of raw resolution. The 5-megapixel selfie camera isn't as impressive, but it comes with a rarely-seen (among similar devices) selfie light feature

. This, along with multiple gesture-based shooting modes

, makes it an attractive option for the chronic self-portrait-taker.
Design-wise, this device flaunts a rather-unassuming exterior. This is not necessarily a con, however, as it does come in a sleek metallic housing

. There just isn't anything headline-worthy about it, either. As for handling dynamics, it can both be easy and a bit problematic -- depending on how you look at it. For one, it's lighter than many of its colleagues at 134 grams

. On the other hand, it's relatively-thick at 7.2mm

-- although one should note that this amount of depth, while thick for a mid-range device, is still below the average across all phones.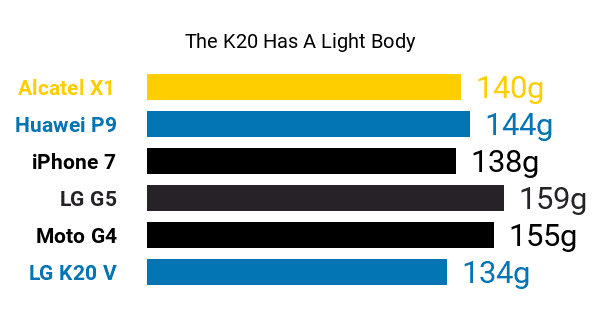 Poring over what the K20 V nestles on the inside, its 1.4GHz clock speed pales in comparison to what many of the competition offer

. The same goes for its native storage of 16GB, which is easily thwarted by 32GB options in its subcategory

. Its 2800mAh battery has more power than most comparable models

, so it's a surprise that it gives off a sub-par usage time of only 31 hours

.
The K20 V's solid offerings in the imaging department can surely contend it a place in the mid-range market, but in the end, its potential is largely held back by its sub-par display and longevity.
Related: 2018 Best Phones By Category
** This phone is also known as: LG VS501, LG K-20 V



You Should Also Check These Out:
* Prices shown are only indicative. They were recently fetched by our system and may have changed meanwhile.