LG K30 Pros & Cons Review
- Analysis by KJ David
An unassuming 2018 LG smartphone, the K30's cons are led by a low-caliber 1.4GHz quad-core Snapdragon 425 processor

that easily gets bulldozed by the engines powering many contemporary eight-core smartphones -- and yes, octa-core engines were no longer that rarely-seen in the entry-level smartphone market as of this specs-driven review. This model also sticks to a so-so 2GB RAM capacity

.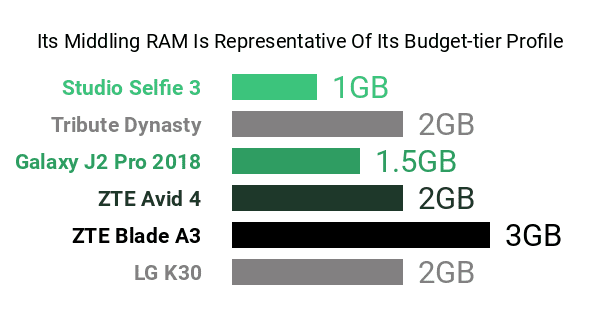 Don't Buy The LG K30 Before You Check:
The K30's 5-megapixel-only front-facing camera

is a letdown as well, especially since several of its rivals come with 8-megapixel selfie shooters. Having said that, its practically-minded target buyers could find a bit of comfort in its Selfie Light function

, which prompts the screen to illuminate around the photo preview, aiming to brighten up those selfies.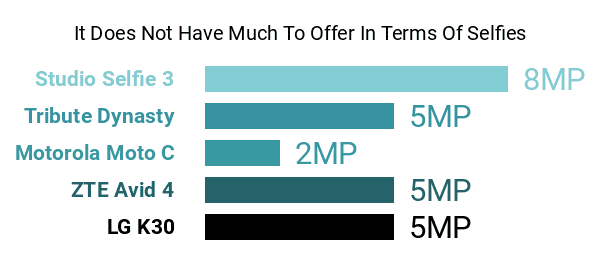 Related: The Best Selfie phones 2020
The K30 is fitted with a a 5.3-inch HD (1280 x 720p) display, which we do not find that impressive, especially since it uses the TFT display architecture

-- one of the cheapest screen types around. It does, however, come with a 2.5D-curved glass finish, although this facet is not that uncommon, even in the lowest Android tier. As for its perks, this budget-tier Android boasts a mammoth up-to-2TB top-up storage allowance

in conjunction with its either 32GB or 16GB native memory.

At the back, it features a respectable 13-megapixel main camera

bedecked with typical LG imaging pros and cons, such as Cheese Shutter and Live Shot. Right underneath it is a circular fingerprint scanner

whose absence would put the K30 at a disadvantage versus most other budget-class smartphones that came out in 2018, considering that fingerprint recognition has become a staple smartphone security feature.
The K30 is powered by a 3000mAh battery pack

that sounds reasonable, even though it far from resembles those of the top big-battery phones. Its 12-hour talk time (720 minutes)

, which was over 14 percent lower that the average value, seems a tad questionable, though.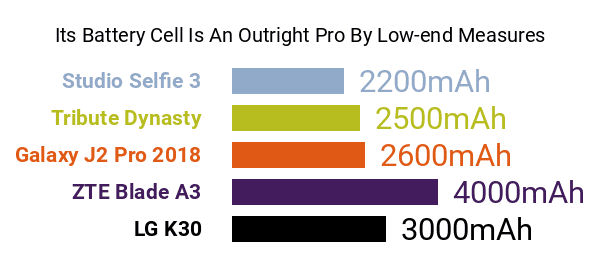 Rounding out the LG K30's pros and cons is the Android 7.1 Nougat ecosystem skinned with LG's proprietary UX 6.0+. Probably to echo its inclination towards users who prefer only the essentials, it dons a classic Black finish.
In essence, the LG K30 is a mediocre smartphone in terms of processing components and display, but it does have its strengths, particularly on the multimedia storage and battery capacity fronts.
On-paper Review score:

Let's Look at the Cons:
Is there an HDMI port?:
The LG K30 can record high-resolution (1920 x 1080 pixels) movies. Bravo! But we couldn't determine whether it had an HDMI port or not. Granted, HDMI (which lets you connect to your HDTV), is not an absolute necessity, but it seems like a desirable feature on an HD phone.
Unknown weight:
It's disappointing that we could not find its weight information.
Now, the Pros:
Quad processor:
Not only does it have a 1.4GHz processor clock speed, but it also has 4 cores.
Huge screen:
We are talking about an above-average screen, making it a phablet: 5.3 inches and a resolution of 1280 x 720 pixels means about 12.01 square inches and an image sharpness of at least 277.06 dots per inch (DPI)!
The memory can be expanded up to 2000GB:
The K30 is not sold with a memory card but it can accept up to 2000GB in memory expansion, which is convenient to store pictures and video clips taken with the built-in 13-megapixel camera.
Interesting camera:
Above-average camera resolution - of 13-megapixel - with these features: Burst Shot, Cheese Shutter, Quick Share, Self-Timer, Tag location.
Average-resolution additional cam:
The selfie camera resolution seems just about average.



You Should Also Be Interested In These:
* Prices shown are only indicative. They were recently fetched by our system and may have changed meanwhile.