LG K8 (2018) Review of Pros And Cons
- Analysis by KJ David
This 2018 edition of LG's mass-tier K8, which was announced during the MWC 2018, is pitched as a refined version of the 2017 model of the same name, although some of its specs indicate otherwise. For instance, it drops from the 2017 version's 13-megapixel main camera resolution to only 8 megapixels this time

, which is not something you would expect out of a newer model. Additionally, it retains the older phone's modest 5-megapixel-only selfie camera

-- 5-megapixel cams have all but lost their charm, considering that the some of the top selfie phones have broken the 20-megapixel barrier as we were reviewing this model's pros and cons.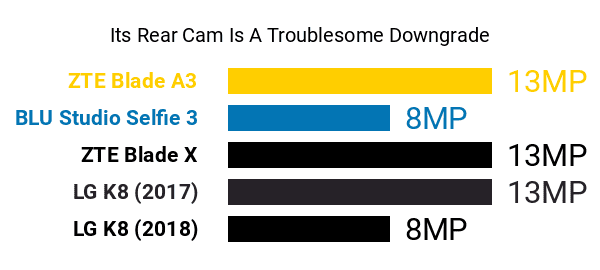 Don't Buy The LG K8 (2018) Before You Check:
Where the K8 2018 does fare well versus its 2017 predecessor is in terms of camera features, since it adds Flash Jump Shot

, which snaps a photo every three seconds for up to 20 photos and uses them to create an instant GIF. It also features a noise reduction system for low-light shooting

and Time Helper, the latter serving as a timer for wide group shots, which even though far from secures it a spot among the best phones in terms of imaging, are still nice pros to have on a budget-class 5-incher.
Hardware-wise, the K8 2018 will not be joining the best LG smartphones any time soon with its entry-level quad-core Snapdragon 210 1.3GHz processor

, which is a con, even by mass-tier standards, but it does give the previous model's mere 1.5GB RAM a nice boost up to 2GB

. As for battery life, the K8 2018 brings back the 2017 version's 2500mAh battery capacity that sounds reasonable to us, given its low-end target market.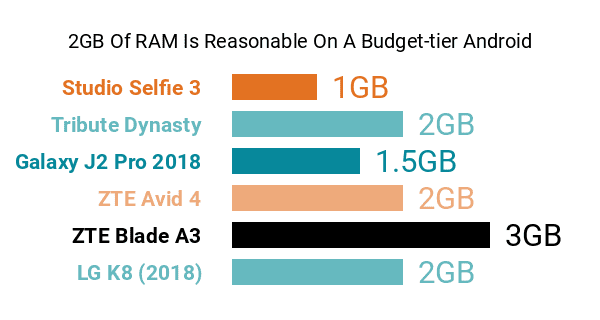 Although it's hard to get behind its 5-inch 1280 x 720 HD 294ppi display

, the K8 2018 comes with an appreciable 2.5D-arched cover glass

. This is met by the combination of a metal and glossy pebble design on its back cover

, which it shares with most other models in LG's low-range K-series. Its lack of NFC support

is a more blatant con, though, knowing that NFC (Near Field Communication), which is largely used for mobile micro-payments, has been a staple smartphone facet for quite some time prior to its MWC 2018 unveiling.

Rounding out the LG K8 2018's pros and cons is a passable 16GB internal memory that can only be expanded by up to 32GB

and a coating of either Moroccan Blue, Terra Gold, or Aurora Black.

Our verdict: The K8 2018 does not deviate too much from its prequel model's feature set, but it does have a couple of tricks for practical users who love tinkering with camera options up its sleeves.



You Should Also Be Interested In These:
* Prices shown are only indicative. They were recently fetched by our system and may have changed meanwhile.