LG Q6 Review & Pros And Cons
- Analysis by Christelle Nina
The Q6 brings LG's FullVision display to the mid-range market. Previously-seen on the flagship smartphone G6, this feature is characterized by an almost-bezel-free edge-to-edge screen

. Combined with a resolution of 2160 x 1080 pixels

, the Q6 is left to display an encouraging sharpness of 442DPI

.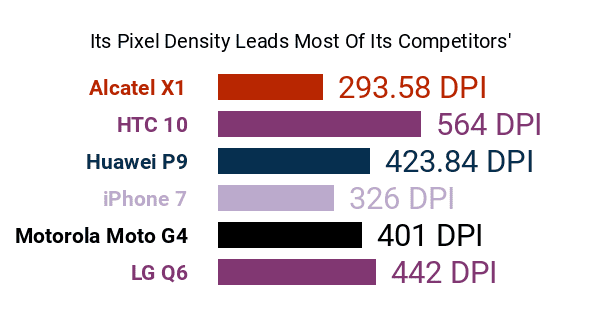 Don't Buy The LG Q6 Before You Check:
Camera-wise, the 13-megapixel shooter at the Q6's rear end

has enough megapixel power to go head-to-head with its competitors. However, the situation at the front isn't as glowing. With a resolution of 5 megapixels, the selfie camera fails to stand out compared to many other mid-end devices

. However, it does offer the benefit of having a wide-angle 100-degree lens

, which makes the Q6 quite a hopeful prospect for avid group-selfie fans.
This model's 7000 series aluminum finish

gives it a somewhat-utilitarian vibe, while still maintaining a sophisticated appearance. Its MIL-STD-810G certification

also brings in an added rugged factor. However, this has resulted to an 8.1mm-thick profile

, which makes the Q6 bulkier than the average model that we usually see in its subcategory.

Talking about performance pros and cons, this device attempts to enhance its profile by boasting 3GB's worth of RAM

. However, this may potentially be offset by the octa-core

processor's sub-par 1.4GHz speed

.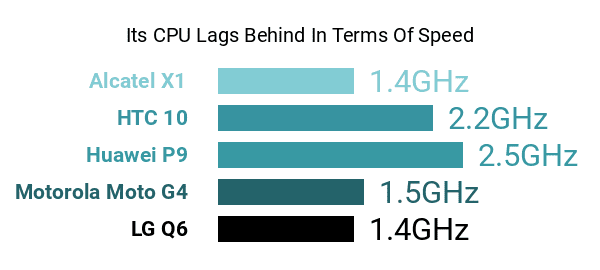 Related: Best Fastest Android phones
To top off these pros and cons, it's worth mentioning that the LG Q6 has apparently prioritized heavy-duty users. With a relatively-competitive 3000mAh battery

, it appears ready to take on more tasks than the average smartphone.
Related: Best big battery phones
If you would like to experience the edge-to-edge displays that are continuously gaining popularity (but without shelling out for a top-shelf smartphone), then the LG Q6 sure looks like an interesting buy. However, note that it's probably not for the speed-conscious, and nor is it for those who are into big and bold selfie cameras. If you belong to these latter categories, then you might wanna direct your focus elsewhere.
On-paper Star rating:

First, the Cons:
Unknown weight:
It's frustrating that we were not able to find information about its weight.
Pros:
Stunningly low radiation:
Its SAR rating (radiation level) is only 0.277 watts per kg (when you think that the maximum allowed is 1.60). Phones with such a low SAR rating are very rare.
Rugged:
The LG Q6 is promoted as a rugged phone (more sturdy, better water-resistance, etc).
NFC-equipped:
Use the LG Q6 to buy things with your phone at NFC-compatible stores
Huge screen:
We are talking about an above-average screen, making it a phablet: 5.5 inches and a resolution of 2160 x 1080 pixels means about 12.1 square inches and an image sharpness of at least 442 dots per inch (DPI)!
High-definition (13-megapixel) camera:
It includes a high-megapixel camera (13-megapixel) with the following options: Square Camera.
Decent-resolution selfie cam:
The selfie cam resolution seems just about average.
** This phone is also known as: LG M700
*** These pros and cons are spotted automatically based on our analysis formula and the specifications we have in our database for this phone. If you spot a mistake, please let us know.



You Should Also Check These Out:
* Prices shown are only indicative. They were recently fetched by our system and may have changed meanwhile.