LG V30 Plus Review of Pros And Cons
- Analysis by Christelle Nina
Compared to the earlier-released V30, the LG V30 Plus boasts improved memory, a significantly-longer talk time, and a new all-black glass finish. Still, being a flagship phone, it's bound to be compared to competing devices. How the V30 Plus fares is detailed below.
Unsurprisingly, this smartphone boasts a 6-inch FullVision display, making it almost bezel-free

, just like most of 2017's flagships. The 2880 x 1440 resolution and 538DPI display sharpness may be relatively-lower than the specs found on a number of its rivals

, but the difference is small enough to be probably insignificant to the naked eye.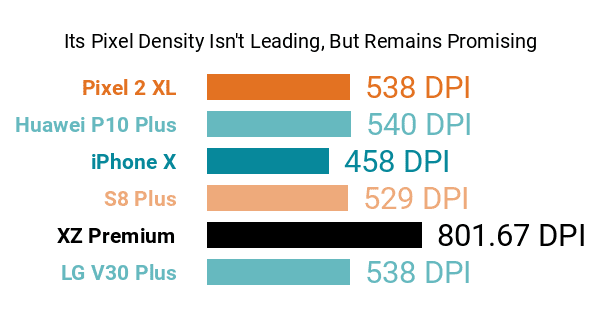 Don't Buy The LG V30 Plus Before You Check:
Related: Best phablets
The V30 Plus also sports a promising camera setup on its rear. With two wide-angle sensors harboring resolutions of 16 and 13 megapixels

, this device is likely bound to excite mobile photography fans. On the other hand, we feel like it could've done better than having a 5-megapixel camera on the front

, as this spec makes it lag behind many comparable (or even lower-tier) models.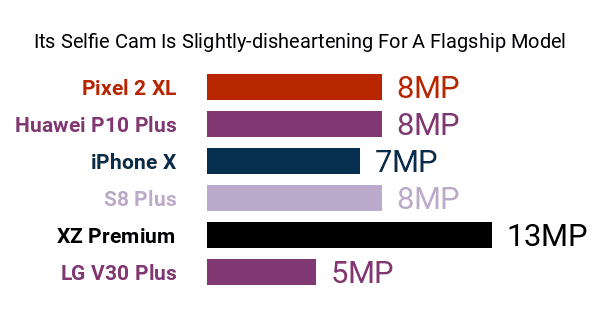 As for pros and cons related to performance indicators, this phone takes the fast lane with an octa-core

Snapdragon 835 processor whose maximum speed clocks in at 2.45GHz

. RAM-wise, the 4GB it has been equipped with doesn't sound inadequate, but it pales compared to the 6GB RAM's we've seen on a few 2017 handhelds

.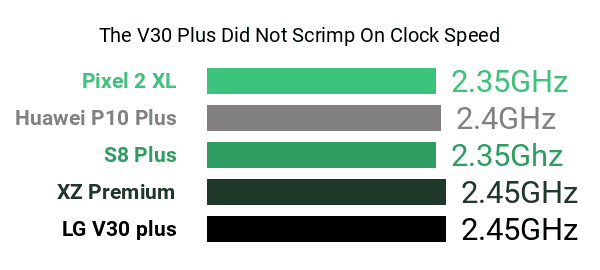 Physically, the V30 Plus' lightness and thinness steals some attention. Weighing 5.57 ounces

and with sides that measure 0.29 inches-thick

, this premiere model stands on the sleek side. The glass front and back and metal sides

reinforce its streamlined appearance. Furthermore, its IP68 rating and MIL-STD-810G certification against water, dust, and shock

are a definite plus.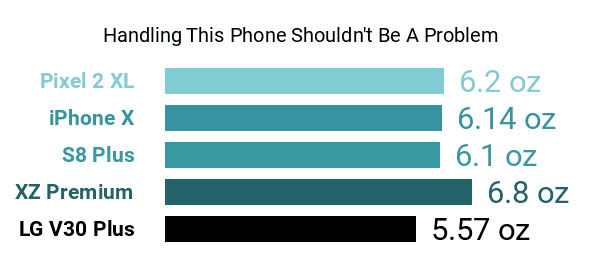 A final con would have to be the V30 Plus' battery specs. In spite of having a markedly-better 26-hour talk time compared to the V30

, its 3300mAh power reserve still appears to lag behind many other smartphones'

.
Related: Best big battery phones
At the end of the day, the LG's V30 Plus has pros and cons that are lopsided towards the promising side, owing to the fact that its is, after all, a flagship phone. It appears to be a nicely-packaged device, with the only major downsides being the watered-down selfie camera and the relatively-small battery.
On-paper Review rating:

Cons:
Doesn't seem to have a memory expansion slot:
Does it feature memory expansion? Unless LG forgoto to mention it, it doesn't seem to.
Unknown weight:
It's frustrating that we could not find its weight information.
Pros:
Reasonable SAR (radiation) rating:
We've seen phones with a lower SAR rating, but 0.71 watts per kilogram of body mass is honorable, on a scale that goes from 0 to 1.60...
Rugged:
It is described as more resistant to water, dust and shocks.
Faster processor:
Its 2.45GHz (quad 2.45GHz + quad 1.9GHz) processor speed combined with 8 cores is part of the fastest.
It is a miracast smartphone:
It is equipped with Miracast, a a wireless protocol that allows you to connect to TVs and share your screen
Very large screen:
We're dealing with a hefty display here, making it a phablet: 6.0 inches and a resolution of 2880 x 1440 pixels means about 14.39 square inches and an image quality of at least 538 dots per inch (DPI)!
Memory can be expanded up to 2000GB:
The V30 Plus doesn't come with an included memory card but it has a slot for up to 2000GB in memory expansion, which is convenient to store pictures and video clips shot with the included 16MP + 13MP (Wide-angle) camera.
Top-of-the-line camera:
The V30 Plus is stands above the crowd with its 16MP + 13MP (Wide-angle) camera. It also sports the following options: 360 Panorama, Cine Effect, Film Effect, Food Mode, Graphy, HDR, Manual Mode, Photo Signature, Pop-out Picture Mode, Square Camera.
Decent-resolution selfie cam:
The selfie cam resolution seems just about average.
** This phone is also known as: LG V30+
*** These cons and pros are identified automatically based on our proprietary algorithm and the specs we found for this item. Should you see an error, please let us know.



You Should Also Check These Out:
* Prices shown are only indicative. They were recently fetched by our system and may have changed meanwhile.