Meizu M3X Review & Pros And Cons
- Analysis by KJ David
Meizu's M3X is a high-caliber flagship smartphone, though some of its specs are apparently not high-end-enough, according to a couple of our graphs. Probably its biggest con is the FHD-1080p-only video-recording capability

of its 12-megapixel dual-flash primary camera

, given the number of other 2016-released flagships that capture 4K-2160p videos. Moreover, it forgoes a memory card slot

, settling for either 64GB or 32GB of non-expandable memory.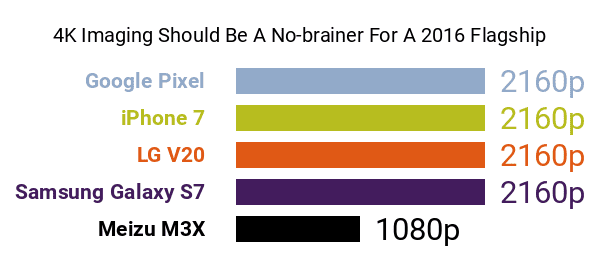 Don't Buy The Meizu M3X Before You Check:
The Full HD (1920 x 1080) resolution

on its 5.5-inch 500nit-bright TDDI display comes off as a drawback as well, since a good number of its flagship competitors tout 2K (1440p) displays in comparison. That being said, the M3X flexes just the right hardware muscles for an upscale Android, in the form of a 2.3GHz +1.6GHz octa-core 16nm MediaTek Helio P20 processor

, a 4GB LPDDR4X RAM

, and a Mali-T880 graphics engine

. We expected somewhere around 4000mAh of power

, though, instead of its 3200mAh-only battery.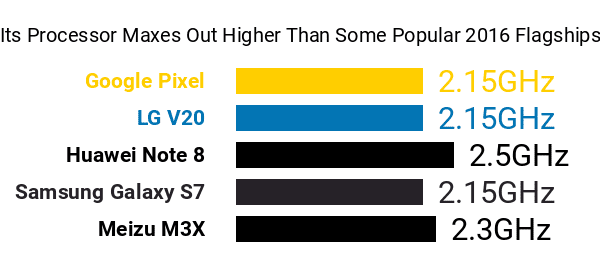 Also among the M3X's pros and cons are a 360-degree mTouch fingerprint scanner

, largely for phone/application security and mobile transactions, and a 5-megapixel f/2.0 5-piece-lens selfie camera with Face AE and the ArcSoft beauty algorithm

. The latter may not be too big of a pro though, since some other high-end phablet contenders tout higher-resolution selfie shooters.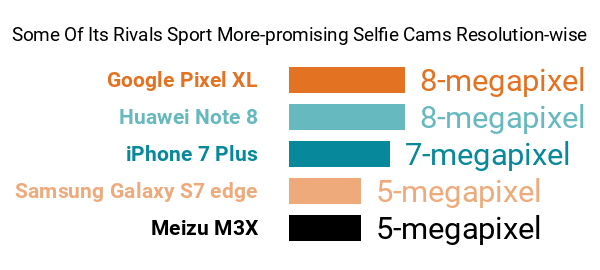 As for aesthetics and durability, the M3X touts a 2.5D-curved glass panel on both its rear and front sides

, with colors like blue and gold among its finish options. It is also marginally thinner than several other flagship-caliber Meizu models released around roughly the same time, measuring only 7.4mm thin

.

Given its high-ranking array of pros and cons, we say the Meizu M3X makes for a decent choice for those in the hunt for a high-performance Android, but can live without premium perks like Ultra HD imaging and a QHD screen.
On-paper Star rating:

First, the Cons:
Is there a built-in HDMI port?:
The Meizu M3X can record HD (1920 x 1080 pixels) clips. Awesome! But we couldn't determine whether it had an HDMI port or not. Granted, HDMI (which lets you connect to your HDTV), is not an absolute necessity, but it seems like a desirable feature on an HD phone.
Doesn't seem to have a memory expansion slot:
Does it feature memory expansion? Unless Meizu forgoto to mention it, it doesn't seem to.
Unknown weight:
It's disappointing that we were not able to find information about its weight.
Pros:
Faster processor:
Its 2.3GHz (Quad 2.3GHz A53 + Quad 1.6GHz A53) processor speed combined with 8 cores is part of the fastest.
Very large screen:
We're dealing with a hefty display here, making it a phablet: 5.5 inches and a resolution of 1920 x 1080 pixels means about 12.93 square inches and an image quality of at least 403 dots per inch (DPI)!
High-megapixel camera:
Above-average image resolution - of 12-megapixel - with these features: Burst Mode, Panoramic Mode.
Other notable features:
It has the following special features: -15-55 degrees Celsius operating ambient temperature, 95% relative humidity, Up-to-5000-meter operational altitude
Decent-resolution selfie cam:
The selfie cam resolution seems just about average.
** This phone is also known as: Meizu M3 X
*** These pros and cons are spotted automatically based on our analysis formula and the specifications we have in our database for this product. If you notice a mistake, please let us know.



You Should Also Be Interested In These:
* Prices shown are only indicative. They were recently fetched by our system and may have changed meanwhile.