Motorola E4 Review & Pros And Cons
- Analysis by Christelle Nina
The Motorola E4 (also known as the Moto E 4th generation) is a smartphone that markets primarily with a "value-for-money" concept. It packs in a mix of mostly-low and mid-end features, but with a few standouts in between.
First on this pros and cons list is the E4's water-repellent nano-coating

. While a bunch of other waterproof and rugged phones already offer this feature, it's not so common in the low-end subcategory to which this model belongs.
The 8-megapixel main camera and 5-megapixel selfie shooter both have enough meat in them to be considered as acceptable. However, its cameras' resolutions aren't included in the E4's particular strengths. What it can rightly boast about is the fact that both shooters come with their own LED flash

.
Related: Best Selfie Phones
Similarly, its 5-inch 720p display is not bad, but still unimpressive. On the bright side, we expect this to fortify the resulting battery life from the Moto E4's 2800mAh battery

, which is already competitive on its own.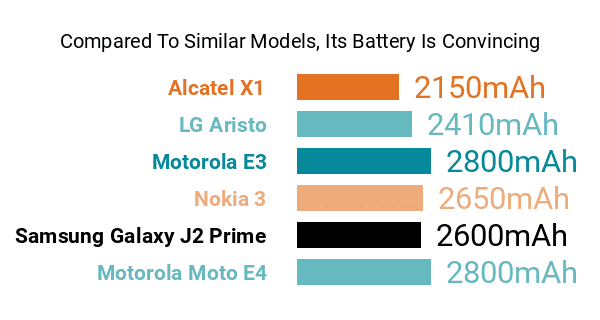 Don't Buy The Motorola E4 Before You Check:
Perhaps having a relatively-stronger battery was the chief reason behind this phone's comparatively-thicker (at 9.3mm) design

. With that said, the E4 doesn't really have anything noteworthy to offer, aesthetics-wise

.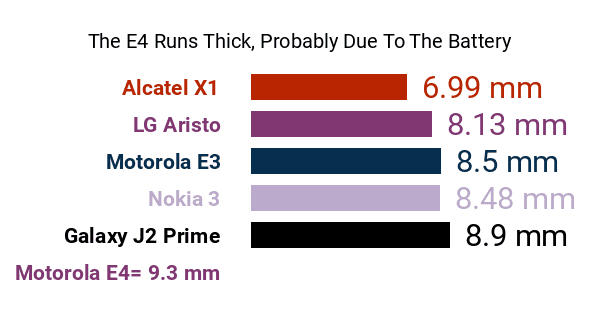 Performance-wise, this Android certainly shows promise. Running at a clock speed of 1.4GHz

and with 2GB of RAM

to spare, it belongs to the more performance-focused phones in the low-end range of devices.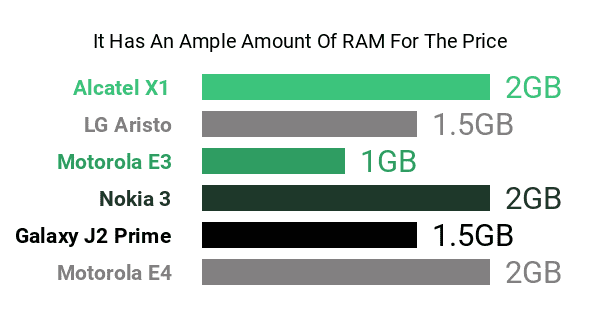 Related: Fastest Android Phones
Lastly, we end this pros and cons list with the mention of the Moto E4's fingerprint scanner

. While it isn't available in all variants of the device, the presence of this option itself is already a plus.
This comparison is a testament to the recent emergence of cheap smartphones that are mostly made up of budget-level specs, but with a specific field of "expertise." Of course, we don't say it to mean that these budget phones are total knockouts in these facets. Instead, they offer features which we don't really expect to find in the usual phones in their submarket. In the case of the Motorola Moto E4, these bonuses are the fingerprint scanner and water-repellent nano-coating. Otherwise, it's pretty much just an average phone.
** This phone is also known as: Motorola XT1775, Motorola Moto E (4th Generation), Motorola Moto E4



You Should Also Check These Out:
* Prices shown are only indicative. They were recently fetched by our system and may have changed meanwhile.