OnePlus 6T Pros & Cons Review
- Analysis by KJ David
Released by OnePlus in November of 2018, the 6T introduces several tweaks to the original OnePlus 6(')s assortment of pros and cons, such as a slightly-larger display and a bit more battery power, while sticking to roughly the same formula that placed its mother model alongside some of the best large-screen smartphones as of this specs-driven review.
Sadly, though, this T-version suffers from similar setbacks as its base model. For instance, it still opts for a 1080p (2340 x 1080, to be exact) sharpness

on its otherwise flagship-caliber 6.4-inch Optic AMOLED 19.5:9 display

, despite some of its high-class competitors shooting for 2K-1440p definitions. As a consequence, it scores a measly (by 2018 flagship measures) 402ppi pixel density count

that shudders in comparison to the more-than-500ppi counts boasted by some popular VR-ready phones listed here on Phonerated.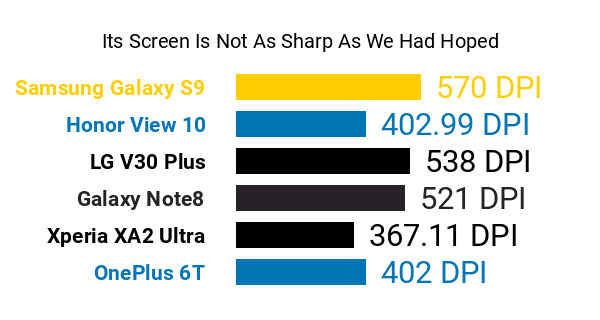 Don't Buy The OnePlus 6T Before You Check:
Just like its base model, the OnePlus 6T also passes up on a microSD card slot

, although its 256GB maximum inbuilt storage

is far from disappointing. Joining its storage memory under the hood is a Qualcomm Snapdragon 845 eight-core chip clocking in at a maximum of 2.8GHz

, which is coupled with a massive 8GB LPDDR4X RAM

(OnePlus also ships a 6GB-only version), plugging it into our list of premium-class 8GB-RAM phones outright.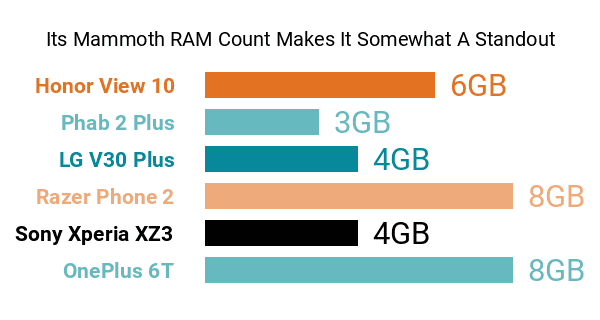 Battery-wise, although the 6T comes with 3700mAh of power, which is a significant boost from its base model(')s 3300mAh, we are not ready to call it a pro just yet, considering the number of similarly-specked 2018 models packing 4000mAh (or higher) batteries in the engine room.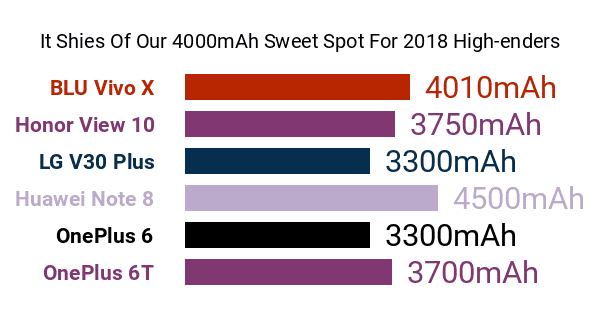 As for imaging, the 6T plays it rather safe by bringing back the original model(')s high-resolution 16- plus 20-megapixel dual-lens rear camera

whose key features include 4K-2160p video-recording, AI-powered scene recognition, as well as both optical and electronic image stabilization. Perched on its display notch is a 16-megapixel selfie camera accompanied by Screen Flash and face retouching, although one limited to a fixed-focus capacity only

.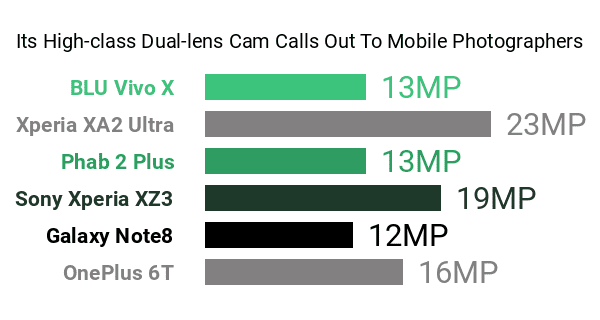 With OnePlus(')s signature Alert Slider physical key and an impact-resistant Gorilla Glass 6 cover glass

rounding out its pros and cons, the 6T is obviously tailored to upmarket shoppers eying a competitively-specked wide-screen smartphone.
On-paper Review score:

Cons:
Ostensibly no HDMI plug:
It is all very well that the OnePlus 6T can record fancy 3840 x 2160 videos, but we're surprised we didn't find any sign of the 6T sporting an HDMI port (which comes in handy to watch HD videos on your shiny HDTV without having to move them first to your computer).
Doesn't seem to have a memory expansion slot:
Does it feature memory expansion? Despite our efforts, we couldn't find out.
Unknown weight:
It's disappointing that we were not able to find information about its weight.
Pros:
Faster microprocessor:
Its processor speed of 2.8GHz with 8 cores is among the fastest in the current market.
It supports the wireless NFC protocol:
NFC is used by electronic payment systems and other uses.
Huge display:
We are talking about an above-average screen, making it a phablet: 6.4 (actual diagonal is 6.41 inches) inches and a resolution of 2340 x 1080 pixels means about 15.57 square inches and an image sharpness of at least 402 dots per inch (DPI)!
Very high-resolution camera:
The 6T is stands above the crowd with its 16-megapixel (combined with a 20-megapixel sub-cam) camera. It also sports the following options: Face retouching, HDR, HQ, Night Mode, Panorama, Portrait Mode, Pro Mode, Smile Capture, Time-Lapse,  Studio lighting.
High-end front cam:
The 16-megapixel (fixed focus) selfie cam offers an above-average resolution.



You Should Also Check These Out:
* Prices shown are only indicative. They were recently fetched by our system and may have changed meanwhile.