Samsung Galaxy Note9 Review & Pros And Cons
- Analysis by KJ David
Challenging the best phablets featured here at Phonerated outright when it debuted, the Galaxy Note9 is a 2018 addition to Samsung's productivity-first Note series. While some users might pull back at its lackluster specs, which include a 201g-heavy body

(The average smartphone only weighed around 150 grams as of this review) and an 8-megapixel-only front-facing camera resolution

, it nevertheless features a premium-class array of pros and cons.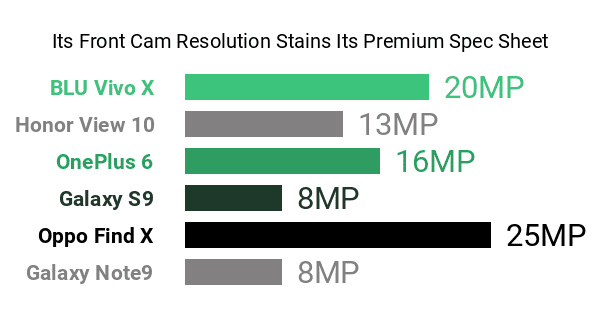 Don't Buy The Samsung Galaxy Note9 Before You Check:
Among its biggest pros is a 6.4-inch 2960 x 1440 QHD+ Super AMOLED display with a wide 18.5:9 aspect ratio

, which, incidentally, was one of the most-advanced smartphone displays on the market at the time of writing. As a byproduct of its 2K screen definition, the Samsung Galaxy Note9 scores a VR-worthy 516ppi pixel density

-- check out some other VR-ready phones here.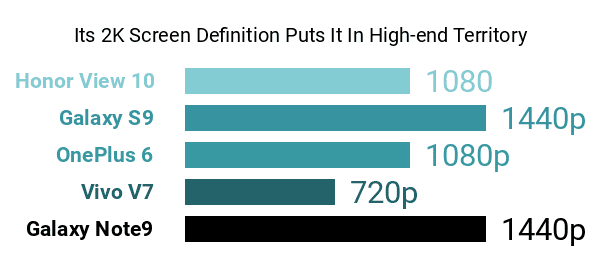 Its display, by the way, is complemented by a Bluetooth-enabled, IP68-rated (waterproof) S Pen

, which comes with a clicker that lets users snap quick photos, change slides during presentations, or pause/resume videos without having to actually touch the phone's display. Samsung says that it replenishes up to 30 minutes of power while docked into the phone for just 40 seconds.
The Note9's biggest advantage versus its Note8 predecessor is its upgraded hardware setup. While the Note8 runs on a respectable 2.35GHz (top speed) eight-core processor, the Note9 became one of the fastest smartphones available when it came out by running on the Qualcomm Snapdragon 2.8GHz + 1.7GHz eight-core chip

. The aforementioned engine is coupled with a premium-class 8GB LPDDR4 RAM

(Samsung also ships a 6GB-only version) that lets it brush shoulders with other high-octane 8GB-RAM phones listed here.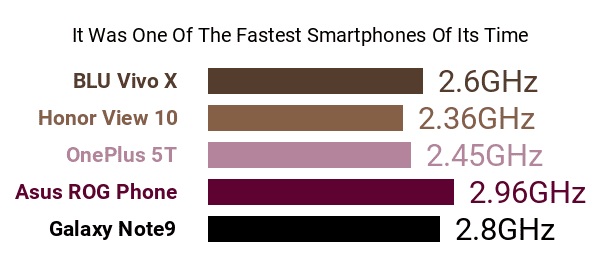 Its hardware pros and cons also include a 4000mAh battery enabled for both wired and wireless charging

, which is a big leap from the Note8's 3300mAh-only cell, and a water-carbon cooling system

for preventing overheating and optimizing gaming performance.
Although some tech-savvy users might see its peak resolution

as a slight con, knowing that 20-megapixel (or higher) cameras were starting to take over the photography-focused smartphone market as of its release, the Note9's dual 12-megapixel rear camera is nevertheless promising, with a 2x optical zooming capability (10x digital zooming) and dual optical image stabilization

among its perks. Also, its wide-angle camera (the other one is a standard telephoto cam) features two aperture modes -- an f/1.5 mode for capturing more light when shooting with poor lighting conditions and an f/2.4 mode for sharp scenic photos.
Storage-wise, this Note model boasts a massive 512GB maximum inbuilt memory clubbed with a microSD card slot for 512GB more storage

. It combines fingerprint, facial, and iris recognition

for its security suite and its shell is rated IP68 for waterproofing

. Also, it can be used with the Samsung DeX accessory that allows it to act as a CPU for basic peripherals like a keyboard and a monitor.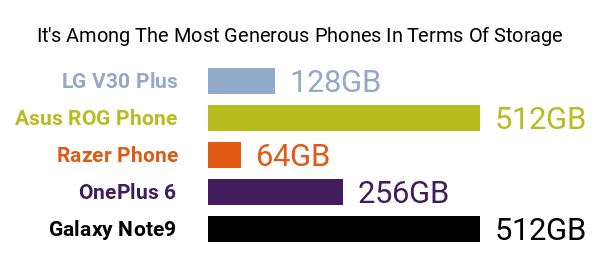 So, with its noteworthy features in mind, the Galaxy Note9 is obviously tailored to tech-savvy, productivity-minded users.
On-paper Star rating:

Cons (or Not-so-great Features):
Unknown weight:
It's frustrating that we could not find its weight information.
Pros:
Some innovations:
It is rigged with a water-carbon cooling system, which was only offered by premium-class and gaming smartphones as of its debut.
Rugged:
It is billed as a rugged phone (more sturdy, better water-resistance, etc).
Faster processor:
Its Quad 2.8GHz (+ Quad 1.7GHz -- some variants peak at only 2.7GHz) processor speed combined with 8 cores is part of the fastest.
NFC-enabled:
NFC is becoming increasingly important for electronic payments and other applications.
Very large screen:
The screen is larger than usual, making it a phablet: 6.4 inches and a resolution of 2960 x 1440 pixels means about 16.13 square inches and an image quality of at least 516 dots per inch (DPI)!
The memory can be expanded up to 512GB:
The Samsung Galaxy Note9 is not sold with a memory card but it can accept up to 512GB of memory expansion, which is convenient to store photos taken with the built-in Dual 12-megapixel (one telephoto cam, one wide-angle cam) camera.
High-resolution (Dual 12-megapixel (one telephoto cam, one wide-angle cam)) camera:
It includes a high-resolution built-in camera (Dual 12-megapixel (one telephoto cam, one wide-angle cam)) with the following options: HDR.
Average-resolution additional cam:
The selfie camera resolution seems just about average.
** This phone is also known as: Samsung Note9
*** These pros and cons are generated automatically based on our algorithm and the data we have on file for this cell phone. If you find a mistake, please let us know.



You Should Also Check These Out:
* Prices shown are only indicative. They were recently fetched by our system and may have changed meanwhile.