Samsung Galaxy S10 Review of Pros And Cons
- Analysis by KJ David
Marking the 10-year anniversary of Samsung(')s flagship Galaxy S smartphone family, the Samsung Galaxy S10 challenges some of the best phablets listed here on Phonerated with its 6.1-inch Dynamic AMOLED notch-less display, which boasts a Quad HD+ definition of 3040 x 1440

(It has a 19:9 aspect ratio), a VR-caliber 550ppi pixel density count

, and support for high-class HDR10+ content. Since it does not have a display notch, its cam sits on the corner of its interface, while its ultrasonic fingerprint sensor is embedded into the screen

.

Don't Buy The Samsung Galaxy S10 Before You Check:
Having said that, our review of its pros and cons nevertheless caught a couple of hiccups lurking within its list of specs, one of which is its mere 3400mAh raw battery capacity

, which sounds so-so, at least compared to the 4500mAh-5000mAh power caps boasted by a few lower-specked competitors. Its 10-megapixel selfie camera resolution

does not sound that promising either, knowing that some of the best selfie phones of its time blustered with 25-megapixel selfie shooters.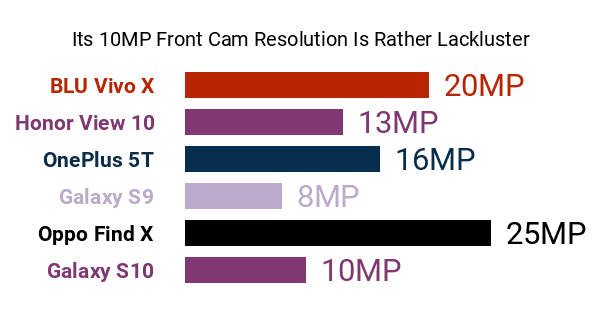 Setting those cons aside, this 2019 Galaxy S model packs some premium-class hardware pros, one of which is Qualcomm(')s Snapdragon 855 octa-core processor

, which consists of a 2.84GHz single-core performance cluster, a three-core 2.41GHz cluster, and a quad-core 1.9GHz cluster, consequently making it one of the fastest smartphones available as of this on-paper analysis. Its triple-cluster engine is accompanied by a robust 8GB RAM

and either 512GB or 128GB of native memory. A memory card slot for up to 512GB of extra storage space is on board as well.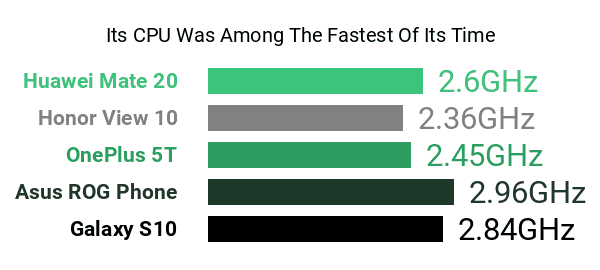 One of the S10(')s other highlight features is its triple-lens primary camera

, which is made up of a 12-megapixel main telephoto lens, a 16-megapixel ultra-wide (123 degrees) lens, and a 12-megapixel dual-aperture (f/1.5-f/2.4) wide-angle lens. Among its key imaging perks are a 4K-2160p video-recording mode at 60fps, a 960fps Super Slow-mo mode, and AI-powered optimizations. Check out some of the best photography-driven phones here.
A few more of its pros and cons include Samsung(')s signature Bixby mobile assistant

, the Samsung Pay mobile wallet system, and a damage-resistant Corning Gorilla Glass 6 panel on its display. It is offered in colors like Flamingo Pink and Prism Blue.
All said, the Galaxy S10 makes for a solid choice for shoppers eying a performance- and photography-focused flagship contender.
On-paper Review rating:

Pros:
Some innovations:
It features a rarely-seen (as of its market entry) in-display ultrasonic fingerprint sensor.
Rugged:
The Samsung Galaxy S10 is trumpeted as a rugged phone (more sturdy, better water-resistance, etc).
Faster processor:
Its processor speed of Single 2.84GHz (+ Triple 2.41GHz + Quad 1.78GHz) running on 8 cores is part of the fastest in recent phones.
NFC-equipped:
NFC is used by electronic payments and other applications.
Very large screen:
The screen is larger than usual, making it a phablet: 6.1 inches and a resolution of 3040 x 1440 pixels means about 14.38 square inches and an image quality of at least 550 dots per inch (DPI)!
The memory can be expanded up to 512GB:
The Galaxy S10 is not sold with a memory card but it supports up to 512GB in memory expansion, which is convenient to store pictures and video clips taken with the built-in 12-megapixel (telephoto cam combined with a 12-megapixel wide-angle cam and a 16-megapixel ultra-wide cam) camera.
High-resolution (12-megapixel (telephoto cam combined with a 12-megapixel wide-angle cam and a 16-megapixel ultra-wide cam)) camera:
It includes an advanced built-in camera (12-megapixel (telephoto cam combined with a 12-megapixel wide-angle cam and a 16-megapixel ultra-wide cam)) with the following options: Shooting modes (Food, Panorama, Pro, Live focus with bokeh effect, Photo, Video, Super Slow-mo, Slow motion, Hyperlapse), Full view, HDR, Grid lines, Floating shutter button, Motion photos, Location tags, Timer, Quick launch.
Above-average additional cam:
The 10-megapixel selfie cam offers an above-decent resolution.
Cons or Not-so-great Features:
Unknown weight:
It's disappointing that we could not find its weight information.
** This phone is also known as: Samsung S10
*** These cons and pros are identified automatically based on our proprietary algorithm and the specs we found for this phone. Should you spot an error, please let us know.



You Should Also Be Interested In These:
* Prices shown are only indicative. They were recently fetched by our system and may have changed meanwhile.