Samsung Galaxy S10e Pros & Cons Review
- Analysis by KJ David
When it comes to technical pros and cons, the Samsung Galaxy S10e is an economical version of the brand(')s S10 flagship, doing away with its mother model(')s relatively innovative in-screen ultrasonic fingerprint reader and instead offering an edge-mounted capacitive sensor

. It also comes with no more than 3100mAh of raw battery power

, which, for a phone running on a premium-tier engine (We(')ll examine that further down this specs-based review), sounds unpromising -- don(')t forget to check out the fastest smartphones listed here on Phonerated.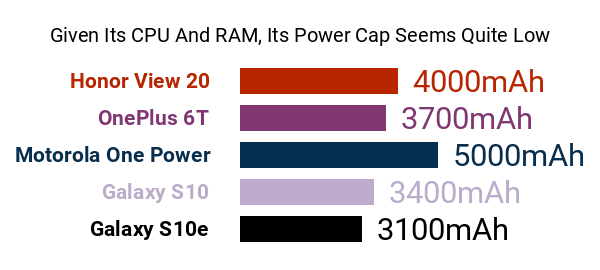 Don't Buy The Samsung Galaxy S10e Before You Check:
Another slight con is the fact that the S10e(')s 5.8-inch screen settles for a 2280 x 1080 FHD+ definition only

, consequently sounding lackluster compared to the 2K-1440p displays boasted by some of the best phablets available as of its release. That said, display technologies like HDR10+ content support and the Dynamic AMOLED notch-less screen design

somewhat make the forenamed downgrade a tad tolerable.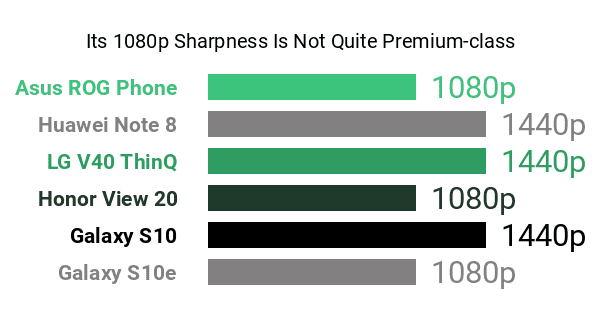 As mentioned earlier, the Galaxy S10e(')s Qualcomm Snapdragon 855 7nm octa-core engine

made it one of the fastest smartphones as of its market entry. It is composed of a single-core performance cluster peaking at 2.84GHz, a triple-core cluster tuned at 2.41GHz, and a quad-core efficiency cluster running at 1.78GHz. Moreover, its 8GB maximum RAM count

was easily a flagship-tier pro as of this write-up -- check out a few other 8GB-RAM contenders here.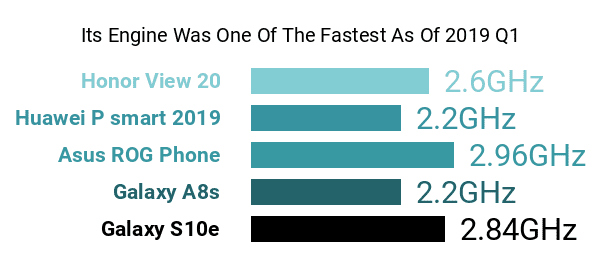 Storage-wise, the S10e offers a respectable 256GB native memory (Samsung also ships a 128GB variant), which can be expanded by up to 512GB. It also touts an IP68-rated water-resistant exterior

, just like its S10 and S10+ big brothers.
As for its imaging pros and cons, the S10e(')s dual rear camera (12-megapixel wide-angle cam + 16-megapixel ultra-wide cam) is a downgrade over the S10(')s triple-lens setup

, although features like HDR10+ and 4K-2160p video-recording

nevertheless place it within 2019 high-end territory. Its 10-megapixel selfie camera, which sits on the top-right corner of the screen, sounds passable as well, especially with dual pixel autofocus tagging along.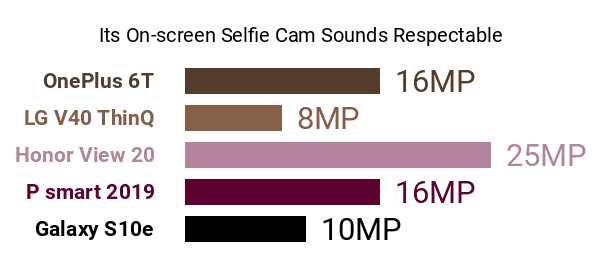 Coated in colors like Canary Yellow and Flamingo Pink, the Galaxy S10e is an upmarket 5.8-incher for users who are all about performance and photography.
On-paper Review score:

Cons (or Not-so-great Features):
Ostensibly no HDMI plug:
We're delighted that the Samsung Galaxy S10e can record fancy 3840 x 2160 videos, but we're surprised we didn't find any sign of the Galaxy S10e sporting an HDMI port (which comes in handy to watch HD videos on your shiny HDTV without having to move them first to your computer).
Unknown weight:
It's disappointing that we could not find its weight information.
Pros:
Rugged:
It is promoted as a rugged phone (more sturdy, better water-resistance, etc).
Faster microprocessor:
Its processor speed of Single 2.84GHz (+ Triple 2.41GHz + Quad 1.78GHz) with 8 cores is among the fastest in the current market.
It supports the wireless NFC protocol:
NFC is used by electronic payment systems and other uses.
Huge display:
We are talking about an above-average screen, making it a phablet: 5.8 inches and a resolution of 2280 x 1080 pixels means about 13 square inches and an image sharpness of at least 438 dots per inch (DPI)!
The memory can be expanded up to 512GB:
The Galaxy S10e is not sold with a memory card but it supports up to 512GB in memory expansion, which is convenient to store pictures and video clips taken with the built-in 12-megapixel (wide-angle cam combined with a 16-megapixel ultra-wide cam) camera.
Interesting camera:
Above-average camera resolution - of 12-megapixel (wide-angle cam combined with a 16-megapixel ultra-wide cam) - with these features: Floating shutter button, Food Mode, Full view, Grid lines, HDR, Hyperlapse, Live focus with bokeh effect, Location tags, Motion photos, Panorama, Pro, Quick launch, Slow motion, Super Slow-mo, Timer.
High-end selfie cam:
The 10-megapixel selfie cam offers an above-average resolution.
** This phone is also known as: Samsung S10e
*** These pros and cons are spotted automatically based on our algorithm and the data we have on file for this phone. If you spot a mistake, please let us know.



You Should Also Check These Out:
* Prices shown are only indicative. They were recently fetched by our system and may have changed meanwhile.