Samsung Galaxy S9 Plus Review of Pros And Cons
- Analysis by KJ David
The Samsung Galaxy S9 Plus is an up-sized version of Samsung's Galaxy S9 -- both phones were unveiled during the MWC 2018. This variant pretty much offers all of the plain S9's bells and whistles, except it comes with a larger display and a couple more pros. Having said that, the 6.2-inch S9+ is tainted by the same cons that weigh down its 5.8-inch sibling, one of which is its measly 64GB-only built-in storage memory

that can at least be expanded by up to 400GB. Considering its other specs and its apparent affinity for multimedia, we expected 256GB or 128GB variants to be offered as well -- something Samsung has done numerous times in the past. Moreover, it seems to have focused its efforts on the rear-facing camera setup, seeing that it settles for an underwhelming (by high-end standards) 8-megapixel-only selfie camera

.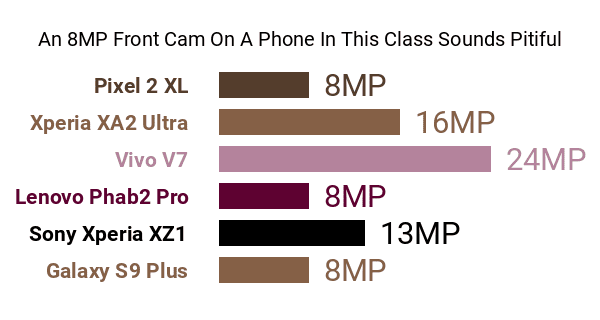 Don't Buy The Samsung Galaxy S9 Plus Before You Check:
Related: Best Selfie Phones
One of this Plus version's biggest pluses versus its base model is the fact that it touts a dual rear camera this time

(The S9 has a single 12-megapixel rear cam), consisting of a 12-megapixel wide-angle Super Speed Dual Pixel primary cam and a 12-megapixel telephoto cam. Its imaging pros and cons also still include the first-of-its-kind variable aperture setup

, which means that the phone can go back and forth between an f/1.5 and an f/2.4 aperture, depending on the lighting conditions, and Samsung's Super Slow-mo video-capture mode of up to a whopping 960 frames-per-second

-- features that give it a solid one-two punch on its way to our list of the best camera smartphones. Of course, it could have done better in terms of raw cam resolution

(Some of its flagship rivals have cameras that reach as high as 23 megapixels), but with stuff like the AR Emoji feature

, which lets users craft augmented reality emojis of themselves, Dual OIS (optical image stabilization

, and Ultra HD (2160p) video-recording at 60fps

, we found little room to protest.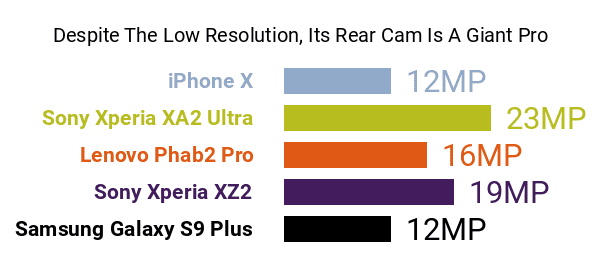 The Galaxy S9+ also looks to win a spot in our list of the best phablets and large smartphones by touting one of Samsung's most-advanced displays to date: a 6.2-inch curved Super AMOLED Infinity Display (18.5:9 aspect ratio) with a 2960 x 1440 QHD+ resolution

and a VR-level pixel density of 529ppi

. It also brings back the widely-customizable Edge Panel

and Always On

technologies, this time alongside Samsung's own Bixby virtual assistant injected with Bixby Vision

-- a system that basically utilizes its AR capabilities for things like shopping and real-time translations. Additionally, it mashes together fingerprint, iris, and facial recognition

for its security suite.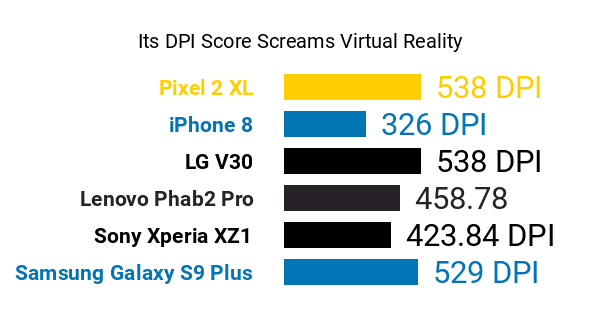 Giving the S9+ the much-needed processing power to support its high-caliber selection of pros and cons is Qualcomm's 10nm Snapdragon 845 dual-cluster octa-core processor, which was among the fastest mobile engines as of this technical review (Check out some of the top performance-driven smartphones here), peaking at 2.8GHz

. It also upgrades the plain S9's 4GB RAM to 6GB

, likely a byproduct of its enlarged display. Bundled with its premium-caliber (as of its release) hardware setup is the S9+'s support for Samsung DeX, a technology that uses docking systems (DeX Pad/DeX Station) to fuse the phone with peripherals like a mouse and a keyboard in order simulate a full-blown workstation.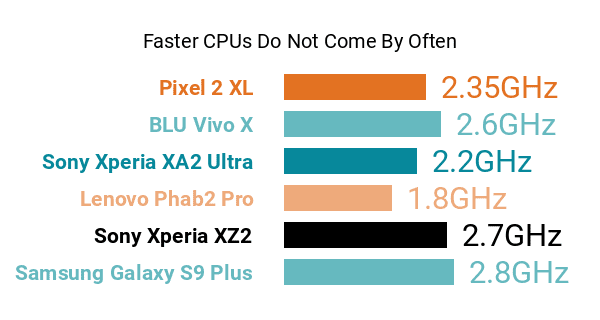 Although it passes up on the 4000mAh power cap trend around the time of its market debute, coming with only 3500mAh of raw power

, the S9+ reassures us with its stress test scores, which include a 94-hour audio playback time (with AOD turned off)

and a 25-hour (1500 minutes) talk time

. Its support for WPC/PMA wireless charging

sounds nifty as well. Leaving its engine room, the S9+ is fitted with an IP68 waterproof shell

, which any tech geek would consider a welcome facet for a phone that hits a couple of premium-tier bulls-eyes.
So, with all that said, this upgraded Galaxy S9 may have cut corners in terms of selfies and storage, but it's definitely a solid contender when it comes to performance, multitasking, and photography.
On-paper Review rating:

Cons:
Unknown weight:
It's disappointing that we were not able to find information about its weight.
Pros:
Innovative features:
It threatens a lot of photography-first smartphones with its dual 12-megapixel rear camera equipped with a dual-aperture setup (f/1.5 or f/2.4), a Super Slow-mo option of up to 960fps, and the AR Emoji feature.
Rugged:
The Samsung Galaxy S9 Plus is touted as a rugged phone (more sturdy, better water-resistance, etc).
Faster microprocessor:
Its processor speed of Quad 2.8GHz (+ Quad 1.7GHz) with 8 cores is among the fastest in the current market.
It supports the wireless NFC protocol:
NFC is used by electronic payment systems and other uses.
Miracast-enabled:
It has the Miracast technology, a system that lets you share your display with a TV
Huge display:
We are talking about an above-average screen, making it a phablet: 6.2 inches and a resolution of 2960 x 1440 pixels means about 15.12 square inches and an image sharpness of at least 529 dots per inch (DPI)!
High-resolution (12-megapixel (Super Speed Dual Pixel cam combined with 12-megapixel telephoto cam)) camera:
It features a high-megapixel camera (12-megapixel (Super Speed Dual Pixel cam combined with 12-megapixel telephoto cam)) with the following options: Dual Capture, AR Emoji, Grid lines, HDR, Motion photo, Location tags, Quick launch, Stamps, Take 9.1 stills while recording UHD/4K video, Tracking autofocus, Video location tags, Playback zoom, Timer, Floating camera button, Full view.
Decent-resolution selfie cam:
The selfie cam resolution seems just about average.
** This phone is also known as: Samsung Galaxy S9 Plus, Samsung S9+, Samsung S9 Plus
*** These pros and cons are identified automatically based on our algorithm and the data we have on file for this cell phone. If you find an error, please let us know.



You Should Also Be Interested In These:
* Prices shown are only indicative. They were recently fetched by our system and may have changed meanwhile.