Most Popular
By Mobile Network
Cell Phones
Detailed LG K10 3G Specs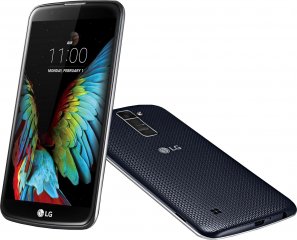 Avg. rating: (72%) (26 reviews over 3 sources)
Key Specs
Processing features
Quad 1.3GHz
Display details
1280 x 720 (277.06DPI) 5.3-inch screen
Release date
Jan 06, 2016




Camera Details
Camera Resolution
8-megapixel
Camera flash
LED
Camera Options

Gesture/Gesture Interval Shot
Tap and Shot

SELFIE CAMERA
Selfie Cam Resolution
8-megapixel or 5-megapixel
Selfie Features
Selfie flash
Display
Display size
5.3 inches
Display dots per inch
277.06 DPI
Display Type
In-cell touch
Display Resolution
1280 x 720 px
Display's superficy
12.01 square inches
Display's superficy (metric)
305.05 square mm
Display finish
2.5D-arced glass
Display total pixels
921600
Performance
Downloadable Applications
Via Google Play Store
Operating System
Android 5.1 Lollipop
CPU Cores
4
Processor Speed
1.3GHz
RAM
2GB/1.5GB/1GB
Physical Features
Thickness (metric)
8.8 mm
Width (metric)
74.8 mm
Height (metric)
146 mm
Available colors
Connectivity
Wi-Fi
Mobile hotspot
Storage Memory
Memory
16GB/8GB
Battery Life
Battery Power
2300mAh
mAh per mm thick
261 mAh/mm of thickness
mAh per display square in.
192mAh/sqrin.
Description:
The K10 3G, as hinted by its name, is a 3G-limited variant of the 5.3-inch 2.5D-glass LG K10, listing an 8-megapixel main camera, and a gesture-sensing 8- or 5-megapixel selfie shooter (with selfie flash) among its specs. Unlike the LTE edition, which delivers octa-core processing, this model settles for a more modest 1.3GHz quad-core engine, though the 2GB maximum RAM is still intact. Running on Android 5.1 Lollipop, it offers either 16 or 8 gigs of storage alongside an unimpressive 2300mAh battery.
Also called LG K-10.
Useful LG K10 3G Stuff:
You Should Also Check These Out:
* Specifications cannot be guaranteed accurate. Do a confirmation of the key specs before making a final choice. Cell phone makers do not always detail all their phone's functions, making it difficult for us to guess whether or not a specific cell phone has a specific function. If you spot an inaccuracy in this description, please let us know as soon as possible.
Don't Be Selfish & Let Others Know... Share This Page



* Prices shown are only indicative. They were recently fetched by our system and may have changed meanwhile.

Full Menu