BLU Studio J2 Review & Pros And Cons
- Analysis by Christelle Nina
Based on the BLU Studio J2's 512MB RAM

and dual-core processor

, it's easy to identify it as a basic phone. Its clock speed isn't as straight-up low-end however, since it runs at the category-average (as of June 2017) speed of 1.3GHz

.
Don't Buy The BLU Studio J2 Before You Check:
Related:Fastest Android Phones
A similar give some, take some approach can be found among its cameras' specs. Talking about raw megapixels, both of its main and selfie sensors barely make an impact at 5-megapixels

and 2-megapixels

, respectively. On the plus side, both are stocked with an LED flash

.
Related: Best Selfie Phones
To match these aforementioned low-end specs, it's not surprising to see that not a lot of attention had been given to its battery. The 2000mAh power pack

barely has anything major to fuel, after all. In the end, however, this still puts the Studio J2 behind many of its colleagues.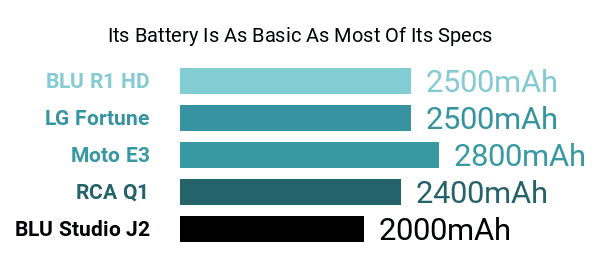 To add to these pros and cons, we discuss this device's physical and aesthetic features. In spite of having a small battery, it runs heavy and thick at 143 grams

and 10.4mm

, respectively. As a commiseration, it does offer the user a metallic design

that makes the phone look more premium than it really is.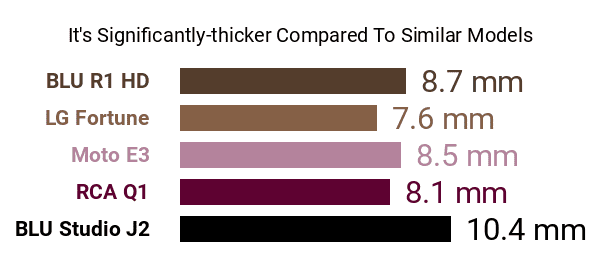 Lastly, it's crucial to point out that the Studio J2 isn't for anyone who's the slightest-bit conscious about display specs, considering that the 5-inch screen has a resolution of only 854 x 480 pixels

. This effectively diminishes the sharpness of the display to a paltry 196DPI

.
Compared to many other low-end devices, the BLU Studio J2 still stands relatively-more basic. Of course, this is not surprising given its target market. But to put it plainly, one cannot expect to find any hidden gems among its pros and cons list -- except maybe for the fact that it offers a front-facing flash at a super-low price range.
You Should Try: Celliminator Phone Finder Finds Your Best 5 Phones
** This phone is also known as: BLU S590Q, BLU J2 Studio



You Should Also Check These Out:
* Prices shown are only indicative. They were recently fetched by our system and may have changed meanwhile.