BLU Studio J8M LTE Review & Pros And Cons
- Analysis by KJ David
The BLU Studio J8M LTE is a spinoff of BLU's entry-level Studio J8 and its M appellation may very well stand for mediocre, with a paltry 2000mAh-only battery capacity leading its cons (The original J8 offers 2500mAh's worth of power). Adding to its measly raw power cap is a rudimentary 1.3GHz MediaTek 6737 quad-core processor

. Having said that, its processor is bundled with 2GB of RAM

-- twice what a ton of other low-end quad-core-only smartphones offer, suggesting that it's more ready for multitasking versus most of its rivals in this class. Keep in mind, though, that some of its BLU siblings have eight-core processors to go along with their 2GB RAMs (Discover some of the best octa-core phones here), so we are not quite sure how much its RAM pushes it in the face of a low-caliber engine. Nevertheless, it winds up as a selling point as of this technical review, with a Mali-T720 graphics processor joining the mix as well.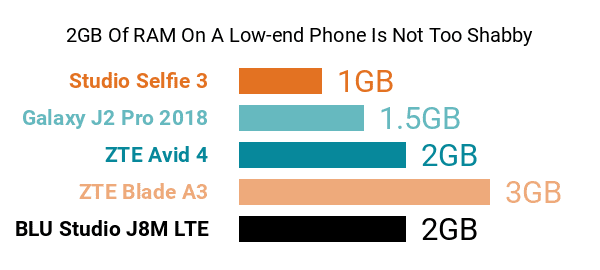 Don't Buy The BLU Studio J8M LTE Before You Check:
The remainder of its pros and cons include a 5-inch HD-720p display

that's smaller than the original J8's 5.5-inch HD screen, but obviously sharper, since retaining the same resolution gives it a higher pixel density (293ppi versus the J8's 267ppi). It also comes with a rear-mounted fingerprint scanner

for safeguarding the phone and the user's delicate files -- something that we are not used to seeing on mere introductory Androids.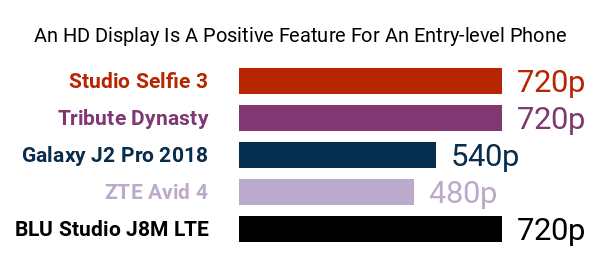 Related: Best BLU Phones
Storage-wise, it comes with a hearty (by low-end standards) 16GB internal memory

, however, like a number of its unlocked BLU siblings , its external memory support peaks at 64GB only

, whereas several tantamount models support 128GB microSD cards. It also dons a metallic paint finish

, probably to add some flavor to its rather bland assortment of pros and cons.

Its least-flashy (ironically) spec comes in the form of a basic 5-megapixel selfie camera

. Moreover, its 8-megapixel flash-rigged rear-facing camera, which captures only HD (1280 x 720) videos at best

, does not sound that a appealing on an Android that came out in February of 2018. A few minor touches include the J8M LTE's standard 4G LTE network connectivity and dual micro SIM card slots.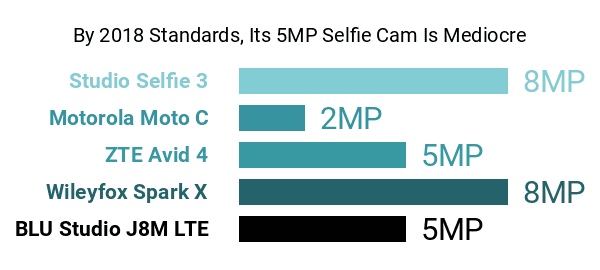 Looking back, the Studio J8M LTE may need to go back to the drawing board in terms of CPU and imaging, but its fingerprint detector and 16GB storage memory likely appeal to low-end smartphone shoppers with security and multimedia storage in mind.



You Should Also Check These Out:
* Prices shown are only indicative. They were recently fetched by our system and may have changed meanwhile.