BLU Studio Mega Review & Pros And Cons
- Analysis by Christelle Nina
This smartphone banks on its mega-sized 6-inch screen

to define its personality. Compared to the BLU Studio XL, which is another 6-inch phablet from BLU's Studio line, this phone has a higher resolution at 720p and thus, a finer display (245DPI versus the XL's 183DPI). However, compared to similar models from other brands, its display specs run pretty average.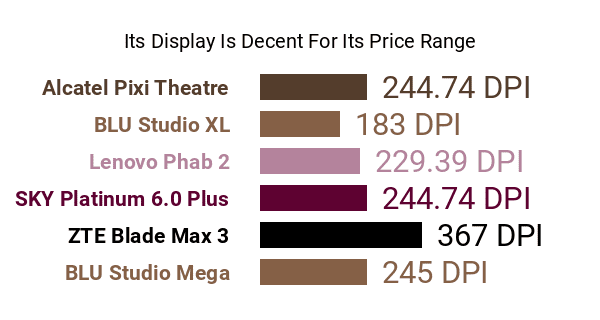 Don't Buy The BLU Studio Mega Before You Check:
Some may find its 8-megapixel main camera

to be a bit lacking, especially for multimedia junkies who want an impressive camera to accompany the big display. Several 13-megapixel phones already exist in its subcategory, which means that this aforementioned feature counts as one of its cons. The 5-megapixel selfie camera

, however, is a bit more competitive. In addition, having two LED flashes (one each at the front and back)

bumps up its imaging pros and cons a bit.
Despite having an evidently-small 2500mAh battery pack

, the BLU Studio Mega comes in thicker and heavier than many of its colleagues. Weighing 196 grams

and being 9.5mm-thick

, sleekness is obviously not among its traits. However, the aluminum finish

that it's housed in helps in this arena, as it gives the device a more sophisticated look.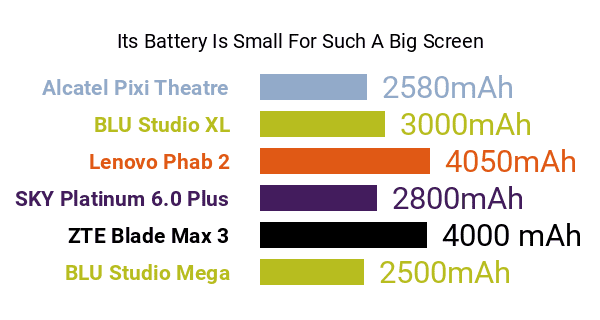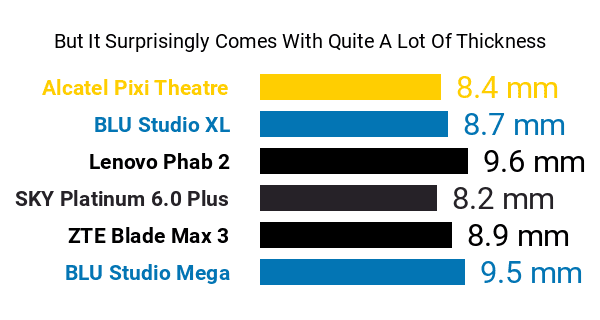 Related: Thinnest Phones
For a low-end device, having a clock speed of 1.3GHz

sounds reasonable. In fact, it's among the fastest phones in its subcategory. However, we can't discount the fact that it offers a too-little amount of RAM

and native storage

. With only 1GB and 8GB, respectively, to spare in these particular facets, it trails behind the competition quite significantly.
Related: Fastest Android Phones
The Studio Mega comes with quite a few pros and cons that paint a clear picture of the kind Android user it was designed for. Its sizable screen and LED flash-furnished front camera seem promising for big users of video calling and selfie-takers. However, the small amount of memory, RAM, and its bulky body are definitely the deal-breakers.
** This phone is also known as: BLU S610P



You Should Also Be Interested In These:
* Prices shown are only indicative. They were recently fetched by our system and may have changed meanwhile.