Google Pixel 2 Review & Pros And Cons
- Analysis by KJ David
Google's second Pixel smartphone may sport a revamped chassis (It has a longer body -- 5.7 versus 5.66 inches, while retaining the original's screen space), but several of its specs are hardly improvements over its mother model. Having said that, the Pixel 2 still has enough pros in its arsenal to merit a flagship status.
One of its biggest selling points is offering an eSIM capability

, which basically lets you use the device without having to pop in an actual SIM card -- it still has a nano SIM card slot, though. This makes the Pixel 2 the first smartphone (High-end tablets have been using eSIMs for a while) to offer such technology. Speaking of firsts, this Google-Daydream-enabled

VR smartphone is Google's first model equipped with Active Edge

, literally letting you launch phone functions by squeezing the phone. It's also the first to run on the Android 8.0 Oreo platform.
For its hardware, the Pixel 2 uses a high-ranking Snapdragon 835 dual-cluster eight-core engine clocked at 2.35GHz + 1.9GHz

bundled with 4GB of LPDDR4x RAM

and an Adreno 540 GPU

. On par with its performance parts is its virtually unlimited photo/video storage space through Google Photos

, making its 128GB/64GB on-board storage, which, by the way, is not accompanied by a memory card slot

, sound more than adequate.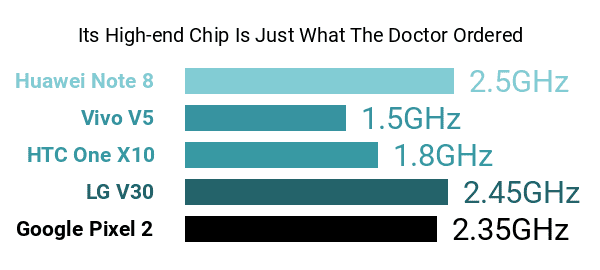 Don't Buy The Google Pixel 2 Before You Check:
Related: Fastest Android phones
Regrettably, this Pixel edition does not quite do its name justice, settling for only 12.2 megapixels on its rear camera

and a meager 8 megapixels on its selfie cam

, despite a bunch of its high-class contemporaries boasting up-to-20-megapixel shooters. Google, however, tries to make up for its lack in raw pixel count with high-tier camera features, such as 4K-2160p video capture

as well as a combination of laser and dual pixel phase-detection autofocus

.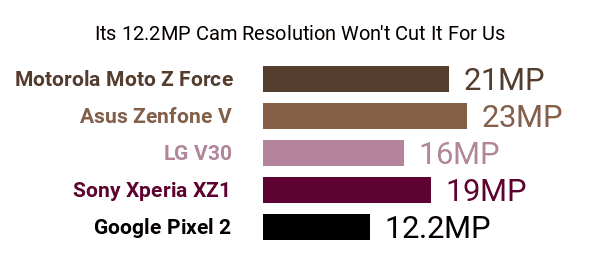 Related: 10 Best Camera Phones as of 2017
Also check out: Best Selfie Smartphones
In terms of display, its hard to be impressed with the Google Pixel 2's FHD-1080p 5-inch interface

with "just" a 441DPI screen fineness (we expect more than that for VR machines), especially with all the QHD-1440p screens floating around, but it does feature an Always On architecture

and a 2.5D Corning Gorilla Glass 5 protective cover

. As for its power supply, even though it disappoints us with only a 2700mAh battery capacity

(A lot of tantamount models shoot for as high as 4000mAh), its 7-hour promised usage time under just 15 minutes of charging

sounds like a standout -- at least compared to what some of its rivals offer.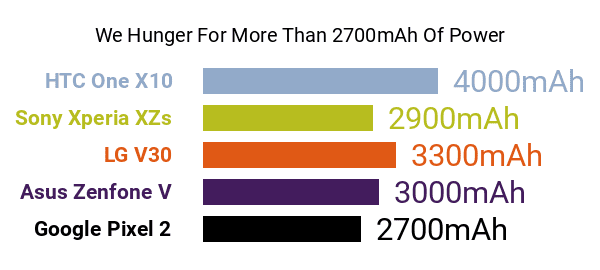 Rounding out its pros and cons is an LTE Cat 15 network adapter enabling up-to-800Mbps data rates

and an IP67-certified waterproof metal unibody

. It is offered in painstakingly-though-out colors, namely Just Black, Clearly White, and Kinda Blue.
In the end, despite cutting some corners in terms of technical pros and cons, the Pixel 2 is propped up to be a viable option for the tech-savvy Android user.
On-paper Star rating:

Cons:
Ostensibly no HDMI port:
It's all well and good that the Google Pixel 2 can record high-resolution 3840 x 2160 movies, but we were disappointed not to find any evidence of the Pixel 2 featuring an HDMI port (which is convenient to watch HD videos on your shiny HDTV.)
Is there a memory expansion slot?:
We didn't see a memory expansion slot.
Unknown weight:
It's disappointing that we could not find its weight information.
Pros:
Rugged:
It is touted as a rugged phone (more sturdy, better water-resistance, etc).
Faster processor:
Its processor speed of Quad 2.35GHz (+Quad 1.9GHz) combined with 8 cores is part of the fastest.
NFC-enabled:
NFC is used by electronic payments and other applications.
Very large display:
We're dealing with a hefty display here, making it a phablet: 5 inches and a resolution of 1920 x 1080 pixels means about 10.68 square inches and an image quality of at least 441 dots per inch (DPI)!
High-resolution (12.2-megapixel) camera:
It includes a high-resolution built-in camera (12.2-megapixel)
Decent-resolution selfie cam:
The selfie cam resolution seems just about average.



You Should Also Be Interested In These:
* Prices shown are only indicative. They were recently fetched by our system and may have changed meanwhile.