HTC Desire 12+ Review & Pros And Cons
- Analysis by KJ David
Although a step-up of HTC's Desire 12, the Desire 12+ is still pinned to the middle-class smartphone market, having its cons led by the low-caliber 1440 x 720 HD+ resolution

of its large 6-inch display, which would have otherwise been a pro, knowing that it resembles many popular flagship phablets with its wide 18:9 aspect ratio

. It also sticks to a 2965mAh battery capacity

despite a good number of similarly-sized smartphones reaching up to 4000mAh of power.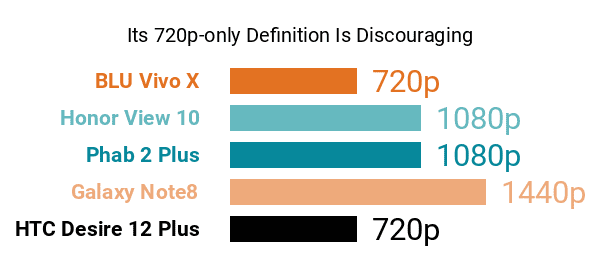 Don't Buy The HTC Desire 12+ Before You Check:
Among its most desirable features are the 2TB microSD card slot

accompanying its decent 32GB internal memory -- as of this technical pros and cons review, only a handful of other smartphones support 2TB top-up storage allowances, most of them being of a higher caliber than the Desire 12+.
Additionally, this Plus edition upgrades the plain Desire 12's 13-megapixel rear camera to a dual-lens system

consisting of a 13-megapixel main lens and a 2-megapixel depth-sensing deputy lens. Note, though, that the dual cameras of many high-caliber imaging smartphones have much-higher resolutions, so the Desire Plus's dual cam will not likely to come out on top versus those kind of setups. Nevertheless, rocking two cameras side by side enables things like Bokeh Mode

, for natural background blurring. Up front, it sports an 8-megapixel fixed-focus selfie cam that may not sound promising resolution-wise

, but is bedecked with its own frontal LED light and a soft-tone selfie light (aka screen flash)

.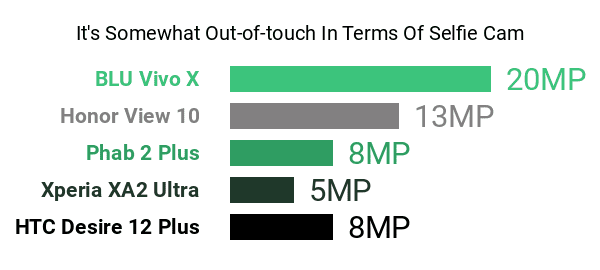 For a phone of its size, the HTC Desire 12 Plus is rather lightweight, weighing in at only 157.5 grams

, whereas a lot of its 6-inch rivals have bodies that weigh roughly 180 grams. Regrettably, its processing components, which include a 1.8GHz eight-core Snapdragon 450 processor

and a tolerable 3GB RAM, are far from heavyweights in this category as well, especially when pitted against the hardware setups of some of the best octa-core smartphones to date.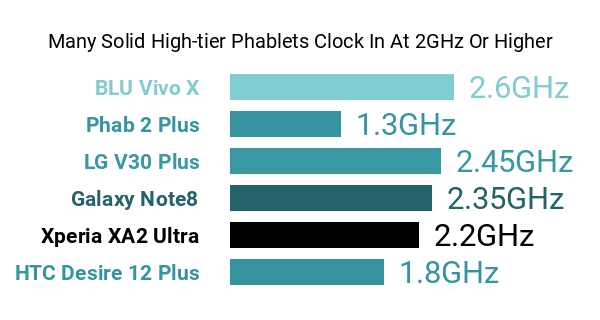 Its pros and cons also include a rear-mounted fingerprint scanner, which the plain Desire 12 awkwardly lacks, and the Android 8.0 Oreo operating system infused with the brand's signature HTC Sense mobile companion that's dedicated to things like power management and performance monitoring.
With a liquid surface finish

wrapping its aforementioned specs, the Desire 12+ caters to middle-class smartphone shoppers looking for a not-too-ambitious wide-screen smartphone that's generous when it comes to multimedia storage.
On-paper Star rating:

Cons (or Not-so-great Features):
Obviously no HDMI port:
It's all well and good that the HTC Desire 12 Plus can record high-resolution 1920 x 1080 movies, but we were disappointed not to find any evidence of the Desire 12 Plus featuring an HDMI port (which is convenient to watch HD videos on your shiny HDTV.)
Unknown weight:
It's frustrating that we could not find its weight information.
And Now, the Pros:
Faster processor:
Its 1.8GHz processor speed combined with 8 cores is part of the fastest.
Very large screen:
We're dealing with a hefty display here, making it a phablet: 6 inches and a resolution of 1440 x 720 pixels means about 14.39 square inches and an image quality of at least 268.16 dots per inch (DPI)!
High-resolution (13-megapixel (combined with a 2-megapixel sub-cam)) camera:
It includes a high-resolution built-in camera (13-megapixel (combined with a 2-megapixel sub-cam)) with the following options: Bokeh Mode, Panorama, Timer (up to 10 seconds), Video Pic.
Decent-resolution selfie cam:
The selfie cam resolution seems just about average.
** This phone is also known as: HTC Desire 12 Plus
*** These pros and cons are spotted automatically based on our analysis formula and the specifications we have in our database for this item. If you see a mistake, please let us know.



You Should Also Be Interested In These:
* Prices shown are only indicative. They were recently fetched by our system and may have changed meanwhile.