Motorola Moto G7 Power Review of Pros And Cons
- Analysis by KJ David
As made obvious by its name, the Moto G7 Power is a member of Motorola's 2019 G7 family that focuses on battery life more than all other specs. It possibly finds itself alongside some popular big-battery smartphones with its large 5000mAh battery pack

, which promises up to 3 days of non-stop usage. It is accompanied by the brand's 15W TurboCharge technology, an endurance-driven pro claiming to restore up to 9 hours of battery life in just under 15 minutes

.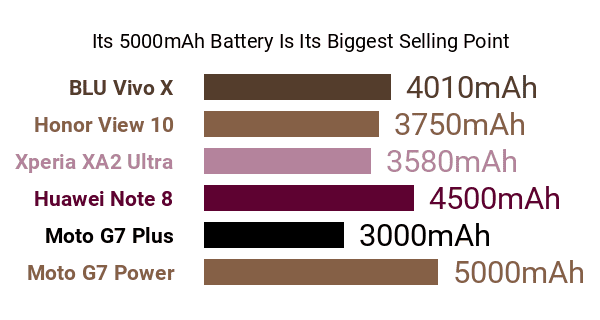 Don't Buy The Motorola Moto G7 Power Before You Check:
Despite coming with a much-higher power cap versus all other G7 variants, though, the G7 Power is by no means a higher-specked smartphone, suffering from cons like a modest (as of this data-driven review) 1.8GHz octa-core Snapdragon 632 processor

and a 3GB-only RAM count

. By the way, don't forget to check out Phonerated's list of the best eight-core phones here. It also lacks support for Near Field Communication or NFC

and it comes with no more than 32GB of internal memory

. The latter, however, is made forgivable by the G7 Power's support for 512GB of external memory

.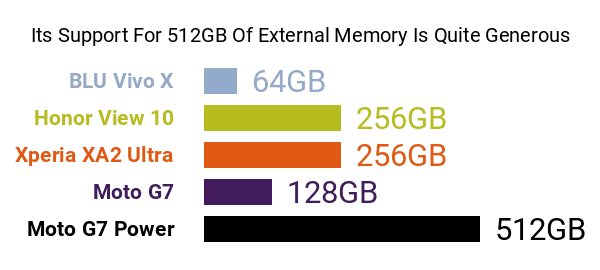 Looking into its other pros and cons, although it touts an expansive 6.2-inch 19:9 LTPS display

, the G7 Power sadly settles for a 1570 x 720 screen sharpness

and scores a humdrum 403ppi pixel density -- the best phablets on the market do not go any lower than FHD or FHD+ (1080p) screen definitions. That said, its screen is toughened by a scratch-resistant Corning Gorilla Glass 3 finish that's coupled with a water-repellent shell

.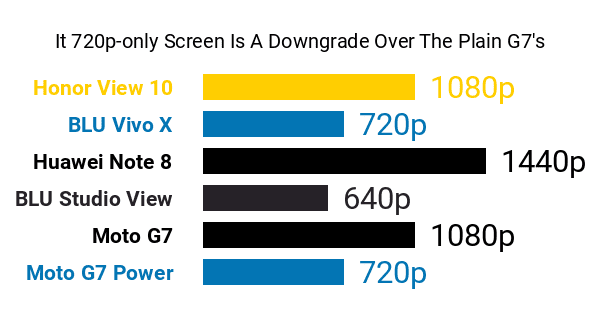 As for imaging, this G7 variant touts a 12-megapixel f/2.0-aperture main cam that does not sound that impressive resolution-wise

, but does come with a 4K (3840 x 2160) video-recording mode

and Google Lens integration

, the latter enabling users to search for particular items online by snapping a quick photo of them. Up front, it sports a so-so 8-megapixel selfie cam rigged with Cinemagraph, Face Beauty, and a screen flash function.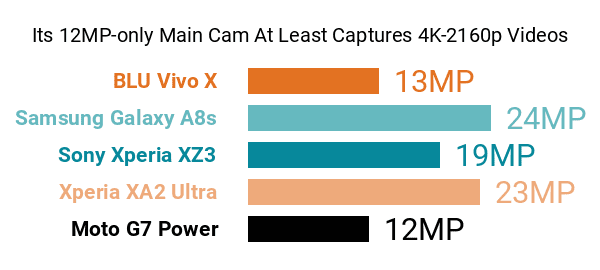 Joining the aforementioned pros and cons are a fingerprint scanner, the Moto Face Unlock feature, and the Android 9.0 Pie ecosystem, all of which top the G7 Power off as a feasible choice for power-hungry users eying a middle-class Android.
On-paper Review rating:

Let's Look at the Cons:
Is there an HDMI port?:
The Moto G7 Power can record high-resolution (3840 x 2160 pixels) movies. Bravo! But we couldn't confirm whether it had an HDMI port or not. HDMI, which lets you connect to an HDTV, is not essential, but would be great on an HD phone.
Unknown weight:
It's disappointing that we were not able to find information about its weight.
Pros:
Faster microprocessor:
Its processor speed of 1.8GHz spread across 8 cores is among the fastest among recent phones.
Huge display:
The screen is big, making it a phablet: 6.2 inches and a resolution of 1570 x 720 pixels means about 14.55 square inches and an image sharpness of at least 403 dots per inch (DPI)!
Memory can be expanded up to 512GB:
The Moto G7 Power doesn't come with an included memory card but it has a slot for up to 512GB in memory expansion, which is convenient to store pictures and video clips shot with the included 12-megapixel camera.
Interesting camera:
Superior camera resolution - 12-megapixel - with these features: Active Photo, Auto HDR, Best Shot, Burst Shot, Cinemagraph, Google Lens, High-res zoom, Manual, Panorama, Portrait, RAW photo output, Spot color, Timer, Watermark, Youtube Live.
Outstanding talk time:
Average front cam:
The selfie cam resolution seems just about average.
** This phone is also known as: Motorola G7 Power
*** These pros and cons are computer-generated based on our algorithm and the data we have on file for this cell phone. If you find an error, please let us know.



You Should Also Check These Out:
* Prices shown are only indicative. They were recently fetched by our system and may have changed meanwhile.